UNIOSUN Matriculates 3338 Students in Its First-ever Online Matriculation Ceremony
Osun State University (UNIOSUN) Last Wednesday sets a record by holding its first-ever online matriculation ceremony for students admitted in the 2019/2020 academic session. The ceremony was held at the Olagunsoye Oyinlola Auditorium of the main campus of the University and we gathered that the three thousand three hundred and thirty-eight (3338) fresh students of the University took part in the ceremony
The three thousand three hundred and thirty-eight fresh students comprising seventy-six (76) students in the College of Agriculture, one hundred and eighty-six (186) students in the college of education, four hundred and fifty-four (454) students in the college of health sciences, five hundred and eighty-eight (588)students in the College of Science, Engineering and Technology, four hundred and forty-two (442) in the college of management and social sciences, three hundred and ninety-one (391) students in the college of humanities and culture and eighty-seven (87) students in the college of Law dressed gorgeously in their various homes and connect to the University via the internet to participate in the matriculation exercise.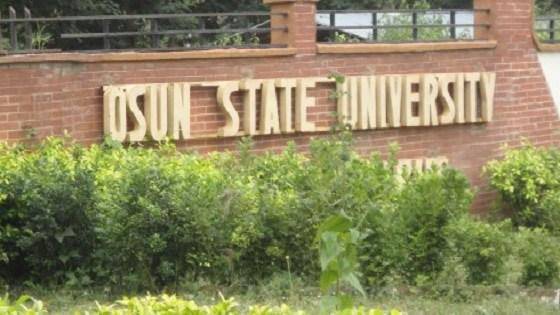 The oath of Matriculation was administered by the University Registrar, Mr. Gafar Ayodeji afterwards the students were informed to scan and send a signed copy of the matriculation oath form that they have received in their mails back to the University with their official University email address for Proper documentation.
In his address, the Vice-Chancellor, Professor Labode Popoola congratulates the students for being among the selected student out of the seven thousand seven hundred and fifty-seven (7757) applications that the University received for the 2019/2020 academic session.
"I urge you all to be law-abiding, align with the vision of the University, committed to learning, and stay clear of cultism and any other social vices so as to be successful as a student of this University."
"We like to place it on record that In spite of the impacts of the global pandemic, we at UNIOSUN are resolved to focus on our pursuit of excellence in teaching, research and service to society as enshrined in our vision and what we have done today is to set the pace for other tertiary institutions in Nigeria."