Presidency Dismisses Dr. Stella's Covid-19 Cure Claims As Trump Hint on Possibilities
Select Language
Recently, a Viral video of a Nigerian-trained US-based Doctor, Dr Stella Immanuel who made claims that a cure for COVID-19 has been found. The Cameroonian alleged that she has found a working cure for the Virus. The Doctor appeared in the video saying she treated and Cure 350 patients with COVID-19 with Hydroxychloroquine, Zinc and Zithromax.
This unverified claim has drawn a lot of condemnation from some people who questioned the credibility of the use of the drugs in questions. Now, Special Assistant to President Muhammadu Buhari on Digital and New Media, Tolu Ogunlesi has spoken about Dr Stella Immanuel's claims.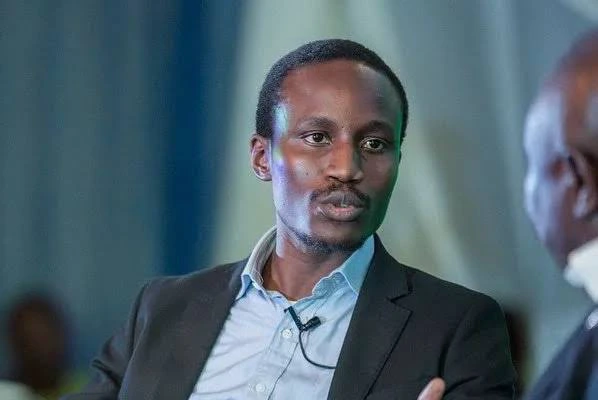 He expressed his displeasure through his Twitter account about how people believe everything they see or read. He made reference to a voicenote that circulated on Whatsapp some months ago where a Nigerian Doctor who claimed he worked at the WHO spoke about the Virus. Below is his Tweet.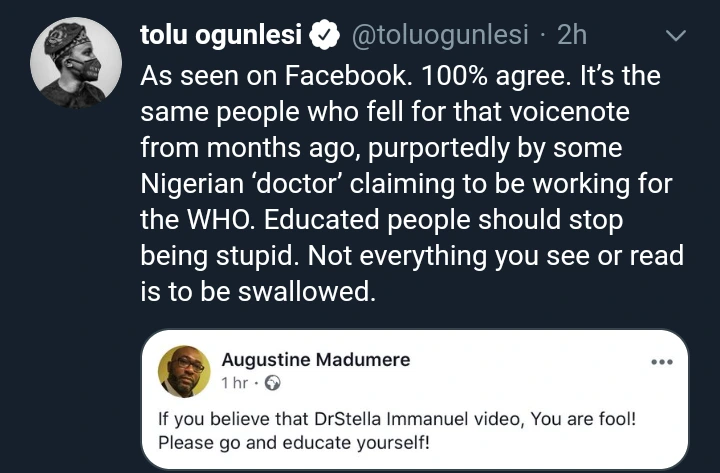 Dr Stella Immanuel's claim is yet to be confirmed by any appropriate health authority. The next few days will show approval or rebuttals on her claim.
Meanwhile, The President of the United States Donald Trump has said that Dr. Stella Emmanuel's claims on Covid-19 cure should not be brushed aside, going by the results she's had with Hydroxychloroquine.
Trump disclosed this on Tuesday during the Covid-19 response press briefing while responding to a question from a CNN reporter, Kaitlan Collins, who had asked his position on her claims.
Stella, under the aegis of the America Frontline Doctors, had recently alleged that Hydroxychloroquine, Zinc, and antibacterial drug, Zithromax, were effective cures for the Covid-19.
She claimed to have cured 350 Covid-19 patients with those drugs.
However, one of the country's health experts, Dr Fauci, on Tuesday, debunked her claims, adding that clinical trials of the drugs proved that it were not a cure for Covid- 19.
The World Health Organization (WHO) had also stated that there was no cure for Covid-19 at the moment.
But President Trump maintained that a doctor with such success in Covid-19 treatment had something to say.
"Maybe it's the same or maybe it's not but I can tell you this: She was on air, along with many other doctors, and they were big fans of hydroxychloroquine.
"And I thought she was very impressive in the sense that from where she came, I don't know which country she comes from but she said that she's had tremendous success with hundreds of different patients and I thought her voice was an important voice but I know nothing about her", he said.
Meanwhile, Facebook, Twitter, YouTube had taken down the video clip where Emmanuel spoke about covid-19, stating that the facts were untrue.
What do you think about Dr Immanuel's claim?