Illuminati, Evil Vaccines and Other Controversial Theories of Dr Stella
Select Language
Illuminati use witches to destroy the world; before you jump into conclusion see other claims US-Based Nigerian trained Dr. Stella Immanuel made in the past.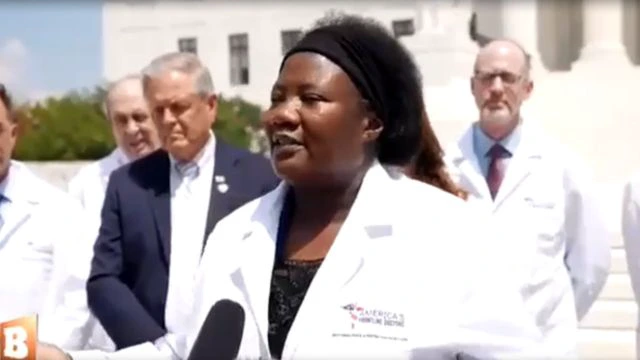 (Image Source: bbc.com)
A Nigerian trained Us medical doctor Stella Immanuel in a video claiming she has the cure for Covid-19 is causing a lot of stir both in the US and around the world. In the video she was flanked by The Republican member of the House of Representatives, Ralph Norman from South Carolina was standing alongside the doctors when they delivered their press event. Her statement is generating a lot of reaction because she stated that she has used hydroxylchloroquine, Zinc and Zithromax to treat and cure around 350 covid-19 patients (A claim contrary to America's Food and Drug Administration and the World Health Organisation position on covid-19 treatment).
Her viral video was shared by Donald Trump Jnr., the son of the president Donald J Trump which prompted twitter to temporary suspend his account for violating their policy on misinformation.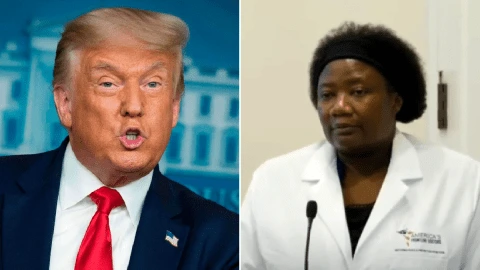 (Image Source: bbc.com)
So many supporters of Donald Trump agree with her, with some saying that big drug companies don't want cheap already available drugs like hydroxylchloroquine but will prefer an expensive vaccine so they can make maximum profit. Of course this is a conspiracy theory as they have no evidence to back up their claim.
Life and career
On her twitter handle she describes herself as a physician, Author, Speaker, Entrepreneur, Deliverance Minister, God's battle axe and weapon of war.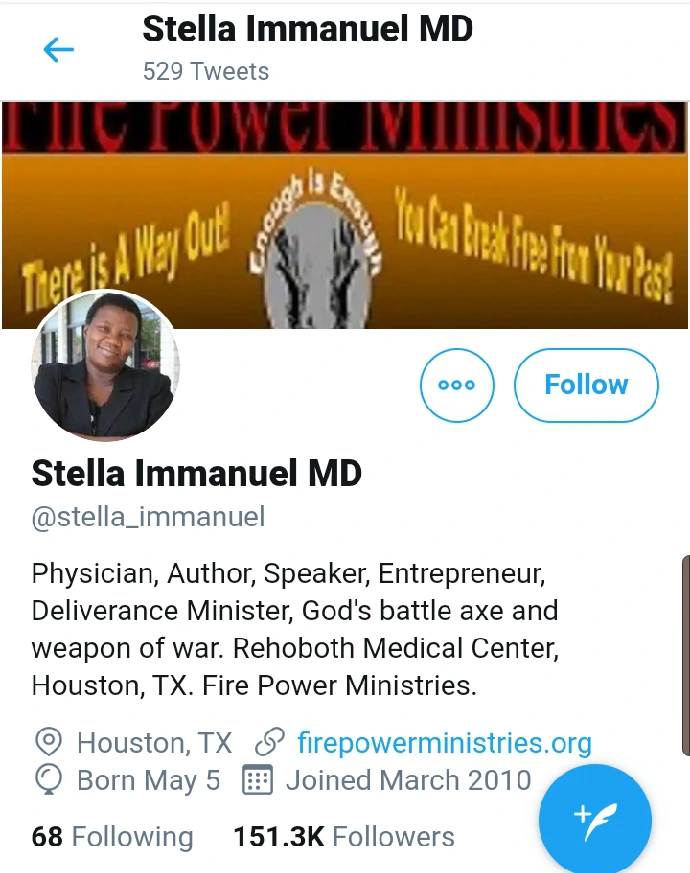 (Image Source: twitter)
Stella Gwandiku-Ambe Immanuel was born in Cameroon. She schooled at the Cameroon Protestant College in Bali, Cameroon. In 1990, she graduated from the University of Calabar in medicine. She moved to the United States in 1992 where she did her residency at Bronx-Lebanon Hospital Centre.
Immanuel started practising medicine at the Paediatric Clinic in Alexandria, Louisiana in December 1998. In February 1999, she joined the General Paediatric Care Clinic as a paediatrician. She founded the Rapha Medical and Therapeutic Clinic in Louisiana in 2006.
She is a registered physician in Texas with an active medical license from the Texas Medical Board. She is a pastor and also the founder of Fire Power Ministries in Houston, USA.
Immanuel has written five books on which you can get on Amazon. In 2019, she began working for Rehoboth Medical Centre in Houston.
Some of Her previous Medical Claims
Her medical claims, often without proof or evidence are sometimes combined with her spiritual beliefs. Here are some of these claims she made in the past.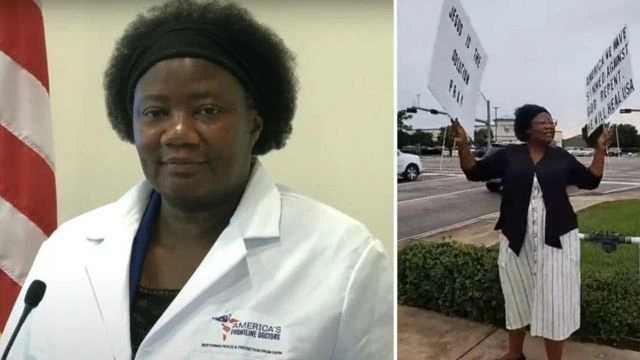 (Image Source: bbc.com)
She said in the past that many gynaecological illnesses are caused by having sex in dreams with demon and receiving "demon sperm". She has said that endometriosis, infertility, miscarriages, and sexually transmitted infections are caused by the spirit husbands and wives.
Also she said in 2015, that space alien DNA is used in medical treatments and that reptilians/aliens control the US government. She also claimed that a vaccine is being developed that will make people not to be religious. 
Again she stated in a 2015 sermon that "Illuminati" are using witches to destroy the world through abortion, gay marriage, and children's toys and media (such as Harry Potter, Pokémon, "Wizards of Waverly Place" and "Hannah Montana").
What do you think, Should we believe her on her covid-19 claims? Let me know with the comment section below
Sources: Wikipedia, dailybeast