GOSSIP: Why Pastor Adeboye Followed Pope France, The Supposed head of Idolatries on Twitter
Select Language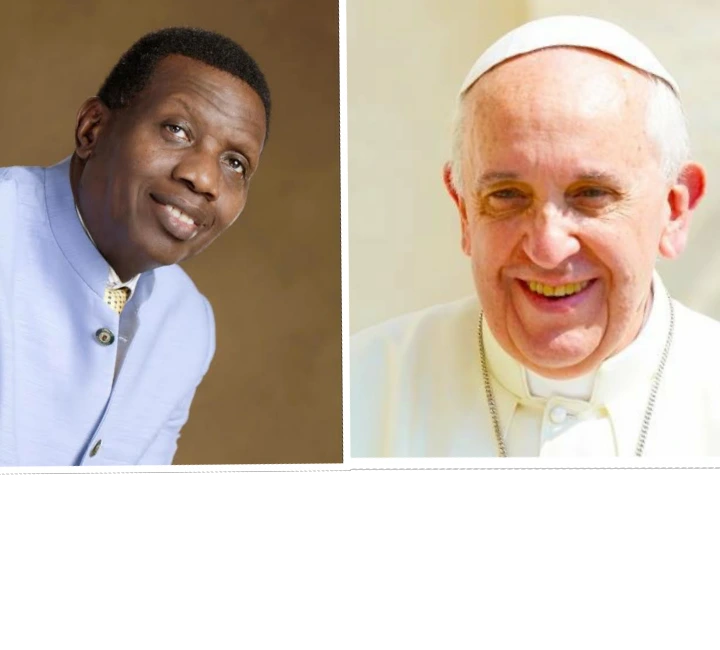 It is said that leaders think and talk about the solutions while followers think and talk about their problems. This is true in the case of the Nigerian Pentecostals and Catholics. Despite both groups claim to be Christians, they disagree sharply when it comes to doctrines. They often go as far as arguing and calling each other ridiculing names.
The Pentecostals often refer to Catholics as idolaters because of their kneeling before images of saints and their prayers to Mary like the popular "we fly to her protection" prayer. The Pentecostals disagree with these theology and doctrine by saying only God answers prayers and Jesus is the only mediator between man and God.
The Catholics often refer to Pentecostal churches as mushroom churches because of their often small congregations and how they are scattered at every corner. The Catholics also call Pentecostal churches business centres and their Pastors and clergymen are seen as businessmen. It could be recalled, that sometimes ago Cardinal Okojie, a Catholic Bishop that represents Nigerian Catholics in the Vatican insinuated that the Redeem Christian Church of God was a business centre when Pastor EA Adeboye talked about the vision of multiplying churches in cities and towns.
This had been the plight of the Nigerian Church for a longtime now. Surprisingly, Pastor Adeboye doesn't think that way but went ahead to follow the Pope also known as the supreme pontiff and the Bishop of Rome. He also the chief pastor of Catholics worldwide.
In 2018, there were about 1.3 billion baptized Catholics in the world this data excludes those that aren't baptized.
Pastor Adeboye is also the leader of the largest Pentecostal movement in the world with the Redeem Church present in over 190 countries worldwide with millions of members scattered throughout the continents. Pastor EA Adeboye is also the spiritual father of many notable clergy men like Bishop Oyedepo etc which has placed as the number one face of the Pentecostal movement.
On twitter Pastor Adeboye follows just 39 people and Pope Francis is one of these few. Pastor Adeboye is followed by about 1.3million people among whom are notable Pastors like Jonathan Shuttlesworth, Mathew Ashimolowo, Pastor Sam Adeyemi, and celebrities like Oby Ezekwesili, Professor Osibanjo, Toke Makinwa, Patoranking and Anthony Joshua.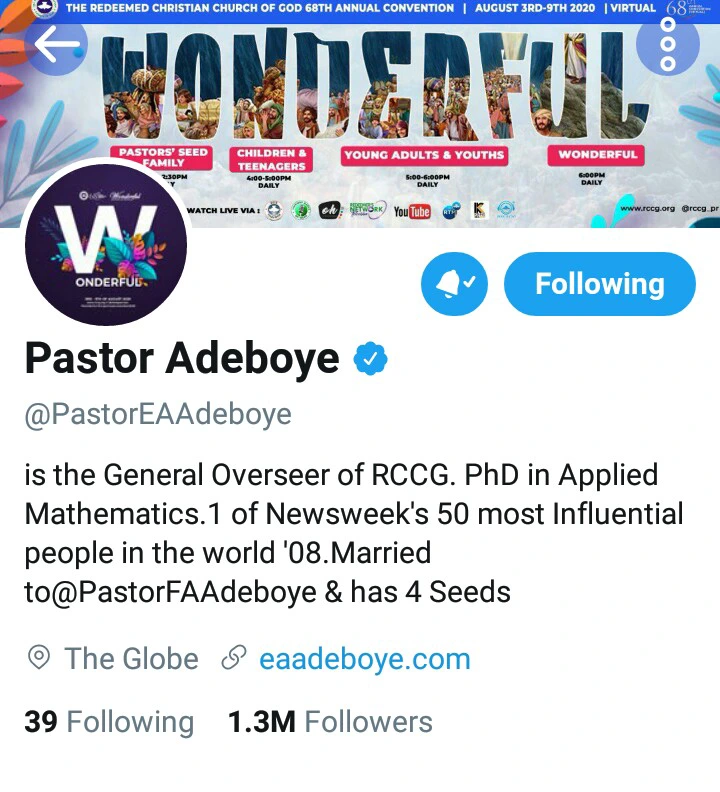 If Pastor Adeboye has no respect for the Pope or if he sees him as the Devil, will he follow the Pope? All Pentecostals should think about this before calling Catholics names.
Pope Francis is also followed by a large number of people. He's popular referred to as the celebrity Pope due to his taking of selfies especially with young people and his constant association with the media. The Pope is followed by many non Catholics and the Pope knows this. Do you think the Pope will not be happy if Christians and Churches multiply irrespective of their denominations? Catholics need to think about this before castigating Pentecostals.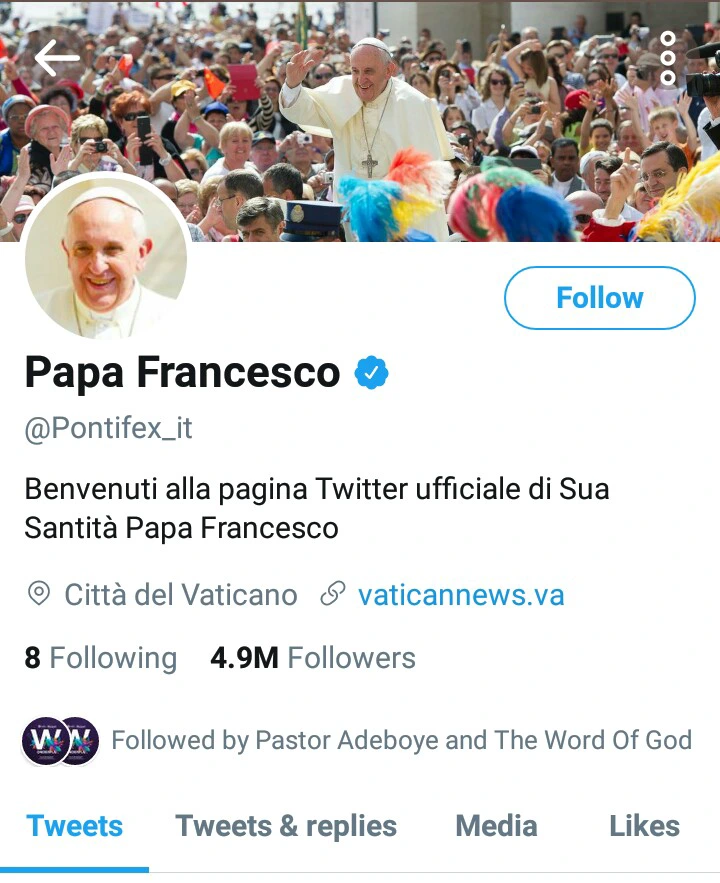 As one who has a Catholic background and presently in the Pentecostal fold, I will tell you Categorically that both denominations have alot of positives they could learn from each other. They are both not perfect either, and Jesus Christ the Bridegroom of the Church, is perfecting his Church daily.
Some reading this article may say that followers and leaders both orbit around the purpose and followers do not orbit around leaders but in the case of Nigerian Catholics and Pentecostals, they need to orbit around their leaders because they have missed the purpose of our redemption.