FA Cup Finals: Chelsea 1- 2 Arsenal – Full Commentary
Select Language
FA Cup final latest from the 5.30pm BST kick-off at Wembley
1m ago19:20

89 min: Barkley is booked for overstretching and sticking his studs on Nketiah's instep.

FacebookTwitter

2m ago

19:19

88 min: Luiz limps off, to be replaced by Sokratis. It's a substitution Arsenal take their sweet time to make.

FacebookTwitter

4m ago

19:17

86 min: Luiz is down, holding his shin. On comes the physio. He might not be completing this match.

FacebookTwitter

5m ago

19:16

85 min: Chelsea are struggling to get out of their final third. Pepe swings one in from the right, but the flag goes up for offside, offering some brief respite for the Blues.

FacebookTwitter

6m ago

19:15

83 min: Tierney crosses low from the left. Rudiger shanks out for a corner. Arsenal work it out to Maitland-Niles, who curls towards the far post. Jorginho should let it float out for a goal kick, but eyebrows it out for another corner instead. He's very relieved as Arsenal make nothing of it.

FacebookTwitter

8m ago

19:13

81 min: Nketiah comes on for Lacazette.

FacebookTwitter

Advertisement

8m ago

19:13

80 min: Jorginho clips a long pass down the inside-left channel. Abraham chases. Martinez comes out of his box, considers heading clear, then turns and claims with his hands. Abraham is convinced the keeper has handled outside his area … but the referee decides the ball was on the line. VAR checks and agrees. That was very close, though, and Arsenal hearts were in mouths for a second there.

FacebookTwitter

11m ago

19:10

78 min: Chelsea have no option but to roll the dice. Giroud, Mount and Rudiger are replaced by Abraham, Hudson-Odoi and Barkley.

FacebookTwitter

11m ago

19:09

77 min: James swings in from the right. Martinez does well to tip away from the danger zone, under pressure from Giroud.

FacebookTwitter

13m ago

19:08

75 min: Now Rudiger is booked as a throw-in somehow escalates. Mikel Arteta sees yellow too for getting involved in some sort of scramble. Chelsea need to calm down quicksmart, because as harsh as that sending off was, this is where they are now, and time is running out.

FacebookTwitter

15m ago

19:06

RED CARD! Kovacic (Chelsea)

73 min: Kovacic slides in on Xhaka, who goes over. The ref books Ceballos for asking the ref to flash a second yellow … then does what the Arsenal midfielder wanted anyway. A second yellow, and Kovacic is off. There really wasn't much in that. Very light contact, and Chelsea are livid.

And with your thoughts
RED CARD! Kovacic (Chelsea)
GOAL! Arsenal 2-1 Chelsea (Aubameyang 67)
What a finish this is! Bellerin bombs down the middle, a run of great determination. He collides with Christensen, and it could be a free kick for Arsenal, but the ref waves play on. Pepe slips the loose ball left for Aubameyang, who takes a touch, drops a shoulder to slip past Zouma on the outside, and dinks over Caballero. That's such a cool finish from a not particularly inviting angle.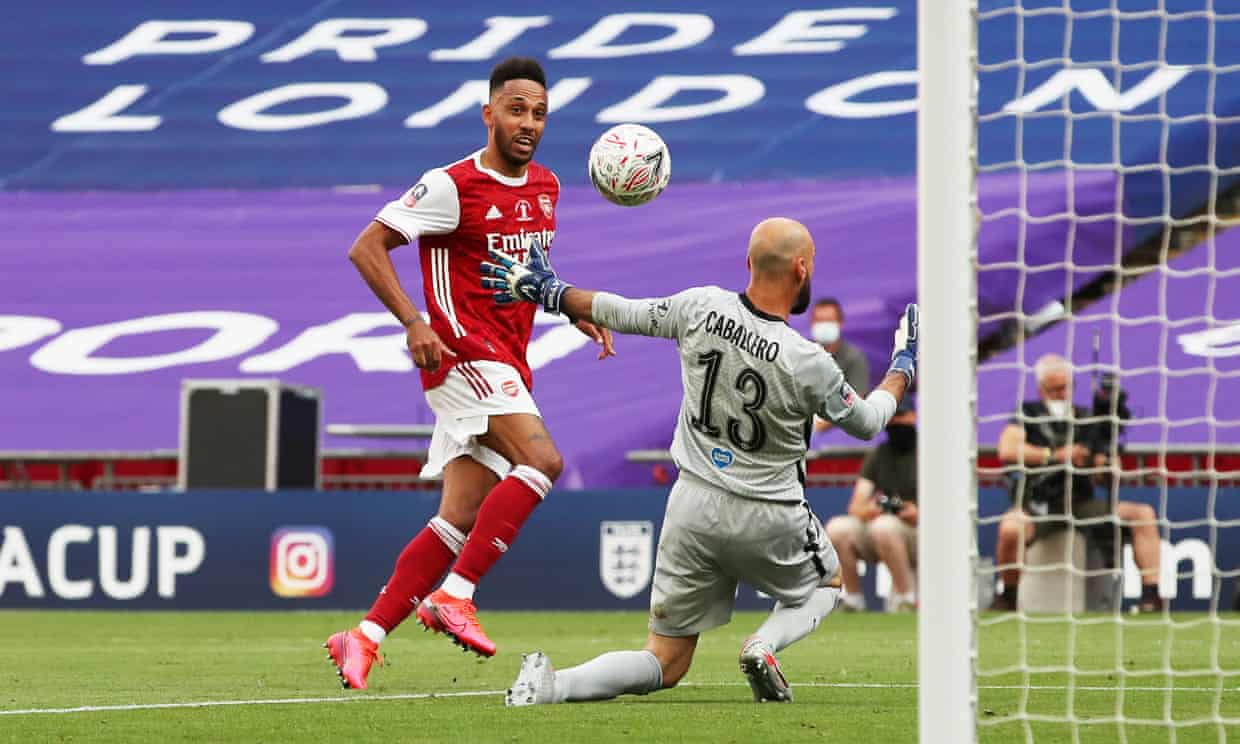 Updated at 2.02pm EDT
More half-time entertainment. A callback to the preamble of this MBM, courtesy of SIG Mills.
45 min: Lacazette lashes the free kick towards the top right, but gets the swerve all wrong and it flies harmlessly wide. There will be five added minutes.