Southern Kaduna: Sad Story of Mother That Lost 11 Children to Killings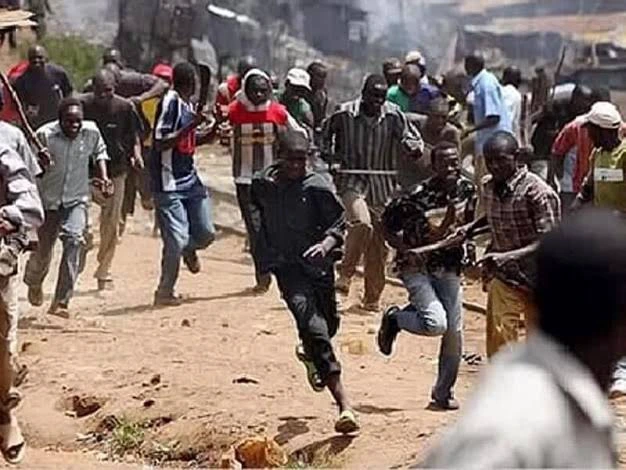 According to a report by Saxone Akhanine from Guardian Newspaper, a 93-year old Virtually impaired woman Mrs Azumi Boka lost her 11 children in a latest attack by suspected armed herdsmen in her community, Gonan Rogo, Kajaru Local council, Southern Kaduna, Kaduna state.
Speaking to the newspaper correspondent, she said.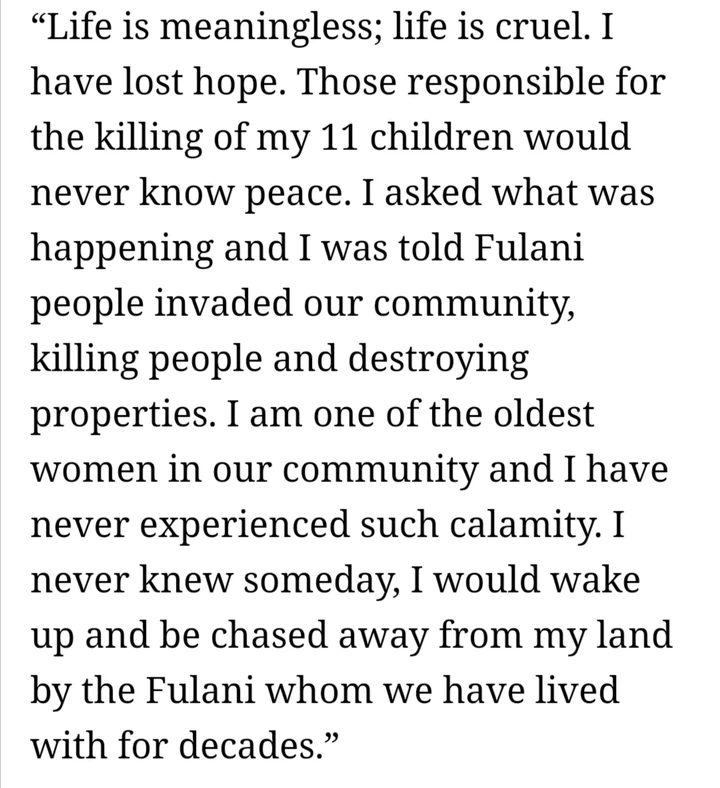 The natives and inhabitants of Kaduna(especially the southern part)amidst the pandemic could barely sleep with their eyes closed as they continue to from inccesant attacks in their communities, who h has been going on for months.
This is as the people faulted the State government's decision to implement the white paper report drafted by Justice Cudjoe and AVM Muazu Reconciliation Committee to curtail the 1992 Zango Kataf crisis, institing that it was part of the ethnic cleansing and Land grabbing agenda.
The age long crisis in Kaduna Communities which resumed on June 3,2020 has displaced thousands of inhabitant who now live in refugee camps, wallowing in pains.
Meanwhile, the Fulani Association under the Umbrella of Miyetti Allah Cattle Breeders Association of Nigeria (MACBAN) has defended the actions of their members as self-defence and reprisal against the native militias, who they alleged to have killed their Cattle and People.
There is also report of a fresh attack which occurred at Jema'aa, Kaura and Zango Kataf Councils, where armed men invaded communities, killing native inhabitants and destroying their homes.
According to the one of the Internally displaced person from the attack, he Narrated that one of the heavily armed men, stormed his home Sabon Kaura at 11:20pm, killing his wife, his brother's wife with her baby , stepmother, and three siblings.
Here is his Statement.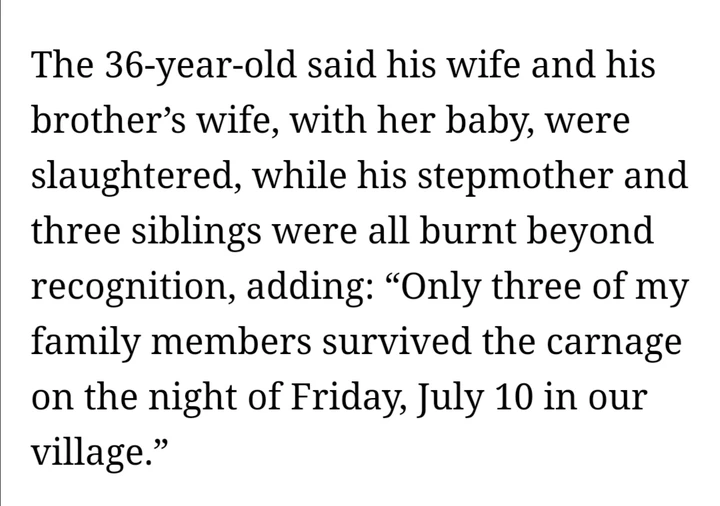 The Southern Kaduna Peoples Union Jonathan Asake while accusing the Kaduna state government of conspiraring to put an end to the people of Southern Kaduna said.