Just In: Nigerian Army Denies Assassination Attempt on Babagana Zulum
Select Language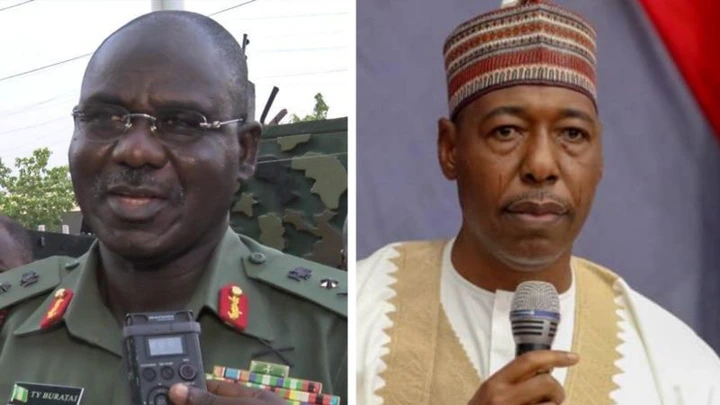 Governor Zulum has accused the Nigerian military of plotting to assassinate him after he was attacked last week
The Nigerian military has said it will investigate the Boko Haram attack on a delegation led by Borno State Governor Babagana Umara Zulum on Wednesday, which the governor called a "spying" by the Nigerian military.
A spokesman for the Nigerian Army, Sagir Musa, said in a statement that the army was also unhappy with the incident and would investigate.
However, the army has not commented on Zulum's allegations of sabotage.
On the other hand, security experts say there is a sense of truth in the governor's allegations of military sabotage.
"Zulum is the governor and he knows best about the security situation in his state, so if he makes such an allegation then it should be seriously considered," said Bulama Bukarti, a security analyst in Africa.
He added: "I think there is a hint of truth in it because he did not start blaming. Murtala Nyako, the former governor of Adamawa, has made similar allegations in Madagali. "
"We know that the military has been involved in the fishing industry, it has been involved in agriculture and there have been allegations of corruption.
This comes as Borno State sees an increase in terrorist attacks, and even on Saturday an attack killed 15 people including children in the border region of Cameroon.
The governor said President Muhammadu Buhari needed to know that the fragmentation of the security sector was hampering efforts to end the more than a decade of insurgency.