APC Govs DG Accuses Oshiomole of Hijacking Ize-Iyamu's Campaign
Select Language
A former national chairman of the All Progressives Congress (APC), Adams Oshiomhole, has been accused of hijacking the campaign of the party's candidate, Osagie Ize-Iyamu, ahead of the Edo governorship election.
The accusation was made by the Progressives Governors' Forum (PGF), the umbrella body of all APC governors in a statement on Friday, August 7, Business Day reported.
The director of the forum, Dr Salihu Lukeman raised alarm over what it described as the diminishing electoral value of the APC ahead of the Edo poll.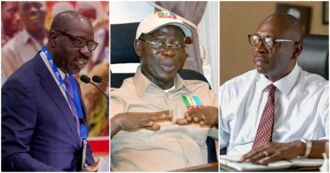 He stated that Oshiomhole has relocated to Edo state and taken over the APC campaign.
The director pointed out that the campaign in Edo at the moment appears to suggest that the governorship election is a continuation of the personal battle between the governor, Godwin Obaseki, and Oshiomhole.
Lukman said Ize-Iyamu must be very visible and seen as the face of the campaign if APC wants victory at the Edo guber polls.
He urged Oshiomhole to take a backseat and allow the party's governorship candidate to become the face of the Edo APC campaign.
The director of the forum also called on the APC campaign in the Edo election to focus on messages of peace.
The director of the forum said the APC may be faced with a big problem if leaders of the party fail to recognise that the APC is faced with the challenge of diminishing electoral viability.