2020 Admissions : No Course for Alarm on Late WAEC – JAMB
Select Language
This news is coming your way, the o level candidates, who have lost hope of securing admissions into various higher institutions this year due to the "vagaries of the pandemic" which delayed the writing of one of the major qualifying examinations for University admissions, eg. Waec, Neco, etc.There is cause to rejoice now due to the thoughtfulness and responsiveness of the stakeholders in education especially Joint admissions and matriculation board (jamb) who do not wish to appear unempathetic regarding some candidates who had high jamb scores but without o level results which must be uploaded into jamb portal to help process their admissions.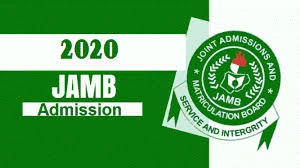 Formerly jamb had scheduled and mandated the universities that, as from 21st of August 2020, they should start the admission processes like post-UMTE screening exercises, uploading of required documents etc. But to ensure equity and fairness, the board decided to allow every aspiring candidate who had taken it's UTME to be given equal opportunity to compete with their peers for any available opening by cancelling the earlier approved date.
This development was revealed by Jamb spokesperson, Mr Fabian Benjamin who said they will be meeting with heads and stakeholders on the 10th of August to review the earlier scheduled date and whatever decision reached will be communicated to the relevant ministries.
According to Mr Benjamin, this review is necessary for the board in order to carry every student along to prevent any unpalatable situation that may arise if these students were denied the opportunity of enrolling with others, if successful.
At least this decision by jamb would help the West African Examination Council (Waec )students to face their exams with a relaxed mindset which can positively affect their performances.
Parents, students etc, who have been praying for this timely information should find this article interesting, why not touch the like button, inform others about the article by sharing it, you can as well use the comment box and say thanks to Jamb for caring