Edo Guber 2020: Oba of Benin Declares His Stand
Select Language
Oba of Benin, the Ewuare N'Ogidgan II, says the Palace does not meddle into partisan politics and has no special candidate when it comes to who will become governor of Edo state.
The revered monarch stated this on Saturday when he received the All Progressives Congress' candidate for the forthcoming election, Osagie Ize-Iyamu, and other governors elected under the platform of APC.
The entourage visited the Oba at his Palace in Benin City, Edo State, during the flag-off of the party's governorship campaign in the state.
While praying for the APC's candidate, Oba Ewuare, said the Palace of the Oba of Benin does not choose any side when it comes to politics, but can only go with the will of the Edo people.
"I want to stress that no matter what anybody might think, we will remain non-partisan because we are expected as we are perceived by our people, because of the expectations of our people, and because of the laid down rules and guidelines of our ancestors, we must be a father to everybody.
"We are not expected to lean either way to this or to that, to anybody, because we see every candidate as our children, so we pray for everybody. We can't lean towards a particular candidate, however, only God and our ancestors, know the mind of man," Oba Ewuare stated.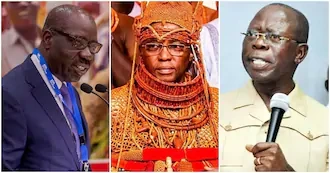 Wike who made the allegation on Friday, August 7, at the government house in Port Harcourt, also accused the All Progressives Congress (APC) of being behind the purported impeachment of the speaker, Edo House of Assembly and his deputy.
He said the APC orchestrated the crisis in the Edo House of Assembly to lay the foundation for the impeachment of Obaseki.
The Rivers state governor vowed that the Peoples Democratic Party (PDP) will resist the plot to impeach Obaseki.
He said the APC is trying to impeach Godwin Obaseki because it cannot win the Edo governorship election.
"It is now clear to all discerning minds that what is happening in Edo is a prepared script by the sinking opposition APC to intimidate PDP and illegally impeach its candidate, Godwin Obaseki having seen clearly that they cannot win the September, 20, 2020 election without any miracle," Wike said.
The governor called on President Muhammadu Buhari to prevail on the APC to play by the rules and stop the needless violence.