Afternoon Hot Newspaper Headlines for August 11
Select Language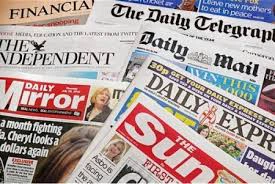 I am not corrupt as allaged, Malami tells Buhari.
Boko Haram Kills 223 Civilians, 89 Security Agents In 7 Months.
Defuse Political Tension In Edo, PFN Urges Buhari.
IPAC Tackles Kogi Electoral Body Over LG Poll.
FUTA student apologises to PREMIUM TIMES for trying to attack website.
Peacemaker stabbed to death as rivals fight over girlfriend in Lagos.
Kano Sharia court sentences man to death for blasphemy.
2 Killed As Youths Protest festival cancellation in Ire-Ekiti.
Niger Delta group want Buhari to suspend procurement in NDDC.
Edo 2020: Ize-Iyamu Vows To Harness Agricultural Potentials, Improve Security.
COVID-19: Oil marketing firms' revenues plunge by N204.52bn.
Step Mother Chained Boy In Animals Yard For 2 Years.
No Covid19 test in 85 LGs, say PTF.
Police nab fake soldier with Indian hemp in Delta.
Insurgents Recruiting More Members, North East Govs Tell PMB.
COVID-19: Nigeria records 290 new cases, second lowest figure since June.
Chieftaincy Tussle: 13 Feared Dead In Benue.
Osimhen apologises to Punch after Twitter rant.
Masari bans NGOs from IDPs Camp.
Uzodimma, Petitions NJC, AGF, Fumes Over 'Supreme Court Gov' Tag.
Post-UTME tests begin Sept. 7, says JAMB.
Lagos SARS personnel brutalise, extort man for holding brother's passport.
Two Killed In Violence Over Oba's Disapproval Of 'Ogun' Festival.
Truck kills two undergraduates riding motorcycle in Ekiti.
FG Begins Feasibility Study for Brass Shipyard Project.
Insurgents Kill Scores In Borno Communities.
Those stealing COVID-19 funds are cursed, says Abiara.
Appeal Court reverses INEC's deregistration of 22 parties.
Nigeria's COVID-19 Recoveries Now 33,346 As Country Confirms 290 Fresh Cases.
We've pushed Boko Haram out of North-east, remaining Borno — Buratai.
People Can Mourn Me The Way They Like When I Die, Says Obasanjo.
Trump evacuated after White House shooting.
Governor Makinde sack work commissioner.
BBNaija: Erica emerges 'head of house', picks Kidd Waya as deputy.
Unilorin wins $80,000 grant for research into disability rights in Nigeria.
Buhari signs instrument approving African Trade Insurance Agency.
Europa League: Man United, Inter through to semifinal.
Read all at ngstudents.com