Biafra or Father's Throne: Nnamdi Kanu Choose Stand
Select Language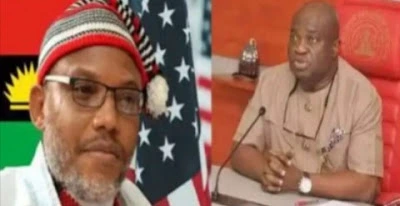 Mazi Nnamdi Kanu has reacted to the 21 days ultimatum given to him by the Governor of Abia State, Okezie Ikpeazu,
to come and claim the crown "King of Ibeku".
Recall we reported that the governor declared he will appoint a King himself if Nnamdi Kanu fails to come back and claim his throne.
According to him, "Afara Ibeku will not remain without a king after 21 days. I have decided to take the final decision as the executive Governor of Abia state!"
However, the leader of the indigenous people of Biafra (IPOB) has replied that his mission is to liberate Biafrans from slavery and not to be a king in Abia State.
Nnamdi Kanu who escaped and has been in diaspora since a detachment of soldiers raided his father's palace in September 2017, said;
"The call is a distraction to me and no man or government can get in the way of Biafra agitation."