Just In: Oshiomole Plays Victim In Godwin Obaseki's Convoy Attack
Select Language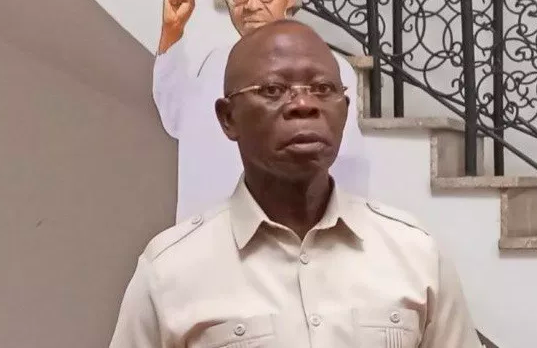 The immediate past National Chairman of the All Progressives Congress (APC), Adams Oshiomhole, has reacted to the attack on the convoy of Governor Godwin Obaseki of Edo state in his ward on Thursday.
POLITICS NIGERIA reports that the state government had accused Oshiomhole of sponsoring the attack on the governor. A statement from the media aide to the governor, Crusoe Osagie, on Thursday night said the attack occurred in Ward 10, Apana in Etsako West Local Government Area of the state, where Oshiomhole hails from.
He, however, noted that the state Deputy Governor, Comrade Philip Shaibu, and the security operatives in the convoy of the governor repelled the thugs and chased them away.
But in a swift reaction, Oshiomhole, through his aide, Victor Oshioke, refuted the allegations that he was responsible for the attack on the governor. The former APC chairman noted that the governor should be truthful to himself and investigate the incident.
Oshiomole alleged that Obaseki's deputy, Shaibu sponsored the attack and recruited the political thugs. He added that the vehicle used for the attack was in the convoy of the governor.
He told Vanguard: "The attackers were actually in the governor's convoy, they drove ahead of the governor's convoy from Ayoguiri and when they got to the village they started by destroying the billboards I mounted, the one mounted by Chief Lucky James, that of Nick Sedi and that of Jerome Adegboyega. Then they started shooting around, people ran away into the bushes and the governor ended up addressing members of his entourage because the villagers ran away.
"They destroyed a vehicle belonging to Wilson Idaewor. People have just started coming back to the community and we are going to make a formal complaint to the police. We ensured that our people did not retaliate so that it will not be reported that Obaseki was attacked in Oshiomhole's ward, which we know was their intention."