United States Condemns Death Sentencing of Musician in Kano
Select Language
The United States has condemned the death sentence passed on Kano singer, Yahaya Sharif-Aminu for allegedly insulting the Prophet Muhammad in a song he circulated social media.
The US Commission on International Religious Freedom (USCIRF) in a statement on August 11, said on the Nigerians government must overturn the death sentence on the 22-year-old Nigerian singer.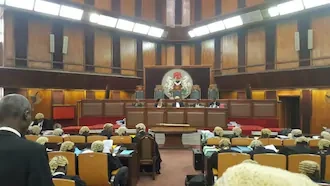 "The Nigerian government must overturn Sharif-Aminu's death sentence and repeal blasphemy laws still present in state-sponsored courts," Tony Perkins, the vice-chairperson of USCIRF stated.
The US government said blasphemy laws are inconsistent with universal human rights standards because they fail to respect recognized rights, including freedom of religion and expression.
Similarly, Frederick A. Davie, who serves as the USCIRF commissioner described the death sentence passed on Sharif-Aminu for merely expressing his beliefs artistically through music as unconscionable.
Meanwhile, the Kano state council of Friday mosque Imams has urged Governor Abdullahi Ganduje to sign the death warrant of 22-year-old Yahaya Sharif-Aminu who was sentenced to death by a sharia court for alleged blasphemy against Prophet Muhammad.
The Nation newspaper, citing the Kano Focus, reported that the council commended the Upper Shari'a court for passing the death sentence on the musician.
Muhammad Nasir Adam, who chairs the council warned Muslims to refrain from supporting any move capable of denting the image of the prophet of Islam, The Nation newspaper reported.
In another news, Primate Elijah Ayodele, a popular cleric known for his prophetic messages has called on the Kano authorities not to carry out the death-sentenced passed on a musician, Yahaya Sharif-Aminu over alleged blasphemy.
The preacher and leader of INRI Evangelical Spiritual Church warned that the killing of the Kano-based musician will amount to spilling the blood of innocent.
According to PM News, Primate Elijah Ayodele gave the warning in a statement issued on Friday, August 14.
He noted that the killing of Shariff will be against the love and tolerance that religion preaches