Just In: Oshiomole Parises Self, Addresses APC Govs Leaders As Pigs
Select Language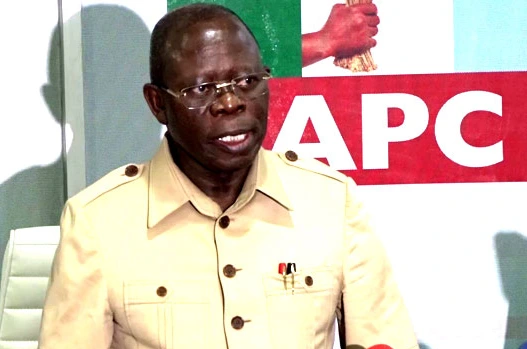 Adams Oshiomhole, the former National Chairman of the ruling All Progressives Congress (APC), on Monday said that he is not who he is because of the Office of the APC National Chairman.
He noted that his pedigree as the President of the Nigeria Labour Congress made him who he is today.
Oshiomhole stated this on Monday while speaking in an interview with State House correspondents shortly after meeting President Muhammadu Buhari behind closed-doors.
His statement was in his reaction to a statement by the Director General of the Progressives Governors Forum, Dr. Salihu Lukman.
Lukman had alleged that some powerful party chieftains were plotting to return Oshiomhole back as the National Chairman of the APC.
Asked to react to the allegation by Dr. Lukman, Oshiomhole said; "You want me to engage in a fight with a pig? If you engage in a fight with a pig, the pig already is stained by its nature and you will wear your white garment, and in my own case, khaki, to go and wrestle with a pig. I will not.
"When I was removed as national chairman, Edo was APC. So, do I have to win Edo to become the chairman? Do I look so unemployed? I'm 68.
"So, what they don't understand is that it is not the office of chairman that made me who I am.
"It is my pedigree from my days as a labourer in the textile industry to be the general secretary of textile workers all over Nigeria and becoming the president of the NLC.
"There is no village I go to that people do not know me and it is this that I used to override the godfathers in Edo State for two consecutive terms and even got a governor elected, no violence before becoming the national chairman," Oshiomhole said.