INSIDER: Heads to Roll as EFCC Takes Over NDDC Case From Reps Committee
Select Language
The EFCC has launched an investigation into the alleged diversion of public funds against Senator Godswill Akpabio and Professor Daniel Pondei.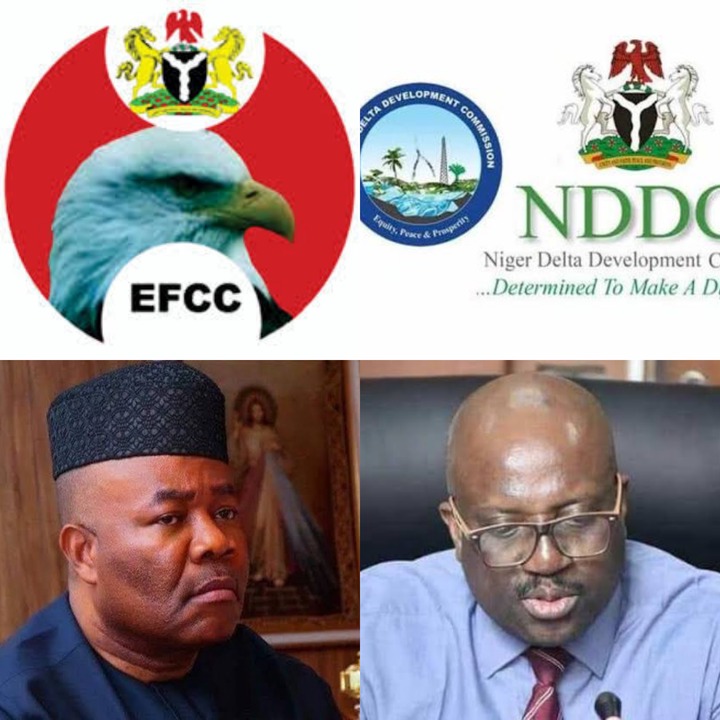 Both of them have been accused of being involved in an alleged 40 billion Naira corruption at the NDDC.
The anti-graft agency made this know in a response letter of a petition received by the Foundation for True Freedom and Good Governance.
Mr. Deji Adeyanju, convener of the foundation requested that the anti-graft agency should investigate the Minister and the NDDC boss.
The acknowledged copy signed by the commissions head, Economic Governance, Adebayo Adeniyi reads: "We write to acknowledge the receipt of your petition dated 3rd August 2020 in respect of the above subject and to inform you that investigation into the case has commenced"
"In view of the above, you are kindly requested to attend an interview with the undersigned through O/C team 6 on Thursday, August 20th at the EFCC headquarters, Jabi, Abuja."
Senator Godswill had in a statement declared his readiness for any probe as regards his involvement in the NDDC.
The Chief Press Secretary of the Minister, Anietie Ekong had issued a statement in Abuja.
In the statement, He added that Senator Akpabio was ready for any probe as regards the NDDC as he had nothing to hide. He further added that He is ready for a public hearing streamed Live for all Nigerians to see.
The interest of the Minister has always been for the goodwill of the Niger Delta people and to remains focused on the Mandate given to him by Mr. President.
With the approval of the Presidency, the commission has provided COVID-19 intervention support to complement the efforts of Federal and state governments in the 9 Niger Delta States.