Biafra: Uwazurike's MASSOB Officially Admitted into UNPO
Select Language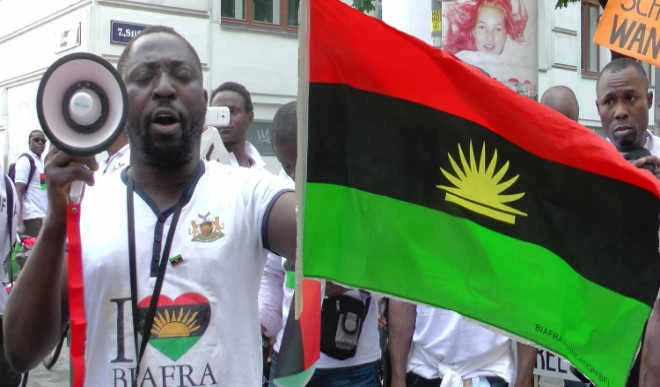 AWKA – The Movement for the Ac­tualisation of the Sovereign State of Biafra (MASSOB) and the Biafra Independence Movement (BIM) have been admitted into the Unrepre­sented Nations and Peoples Organisation (UNPO) Gener­al Assembly, a development that has elicited jubilation from members of the two groups.
A statement by their di­rector of information, Elder Uche Mocha, said BIM/MAS­SOB were admitted along with four others during the opening plenary of the XV General Assembly of the Unrepresented Nations and Peoples Organisation during the week.
Other ethnic nation groups admitted into the body were the Government of Guam; the Catalan National Assem­bly (ANC); the Yoruba World Congress, and the Movement for the Survival of the River Races of Zambesia.
Mocha said in the state­ment that Ralph Uwazurui­ke, leader of MASSOB, had expressed happiness and giv­en the glory to God Almighty who, according to him, made an impossibility to be possible after his group was admitted.
He said the additional nation groups bring the to­tal number of active UNPO members to 44, represent­ing over 300 million people around the world.
"These new members, moreover, represent some of the most well-known present and historical issues around decolonisation, indigenous rights and self-determina­tion.
"During the event, each new member was given the opportunity to present them­selves to other members in a fruitful exchange of knowl­edge and awareness. They discussed their histories and the most pressing issues they face today," Mocha wrote.
According to Mocha, the Movement for the Actual­isation of the Sovereign State of Biafra/Biafra Inde­pendence Movement (BIM/ MASSOB) is the representa­tive of a people from Nigeria seeking their own self-deter­mination.
"After severe ethnic vio­lence during the 1950s, Bi­afrans have been unsuccess­ful in achieving their own independent state.
"Ever since, like the Yoru­ba people, they have suffered at the hands of the Nigerian government and incursions by Northern Nigerian tribes.
"However, similar to the Yoruba people, the BIM/ MASSOB is committed to non-violence and, through UNPO membership, hopes to join the rest of the world as an independent nation."