School Reopening: ESUT Announces Resumption Date, Becomes 3rd University to Reopen
Select Language
Opera News
Nigeria Local
Get Opera News on Facebook.
It could be recalled that activities in the Nigerian Universities has been put on hold since March this year due to the Novel corona virus pandemic which has affected the world as a whole, since then both staff and students has been at home doing nothing. Although some students have cried out to being tired of staying at home doing nothing while some are of the opinion that anything about school resumption should be next year as health and life comes first. Some institutions in the country has commenced activities online, while many are yet to announce a date for resumption of academic activities.
The Enugu State University of science and technology, Enugu, through it's internal memorandum have asked all staff of the university to resume on Monday the 24th of August 2020, the memorandum was signed by the university registrar Barr T.M Ikpenwa, they also adviced all staff to adhere to the covid-19 protective rules as issued by the NCDC and asked all Department head to keep accurate daily attendance register to be used to monitor full compliance. See image below;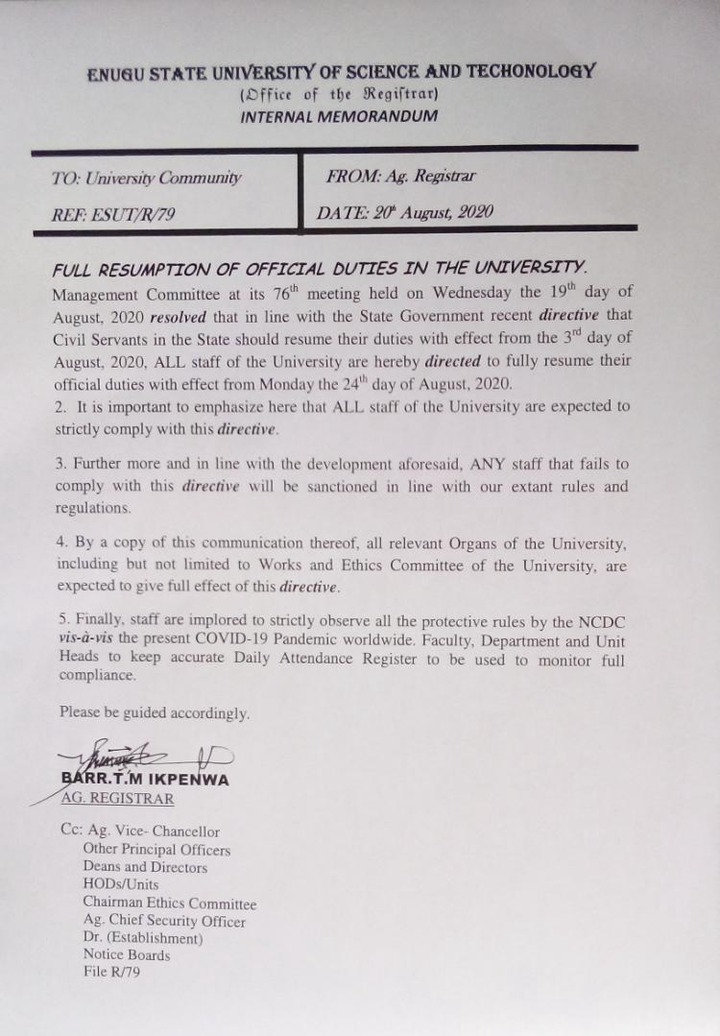 In my opinion I advice all students of the Enugu State University of science and technology to prepare for resumption, as they might be called upon at any moment to return back to campus.