CRIME WATCH: Names And Photos of 9 Internet Fraudsters Arrested by EFCC in Niger State
Select Language
Hushpuppies: EFCC Arrest 9 Fraudsters, Recover a Toyota Venza, Laptops, Exotic phones
CrimeNews
Aug 22, 2020 1:09 PM
Opera News Nigeria
Get Opera News on Facebook.
Hushpuppies: EFCC Arrest 9 Fraudsters, Recover a Toyota Venza, Laptops, Exotic phones.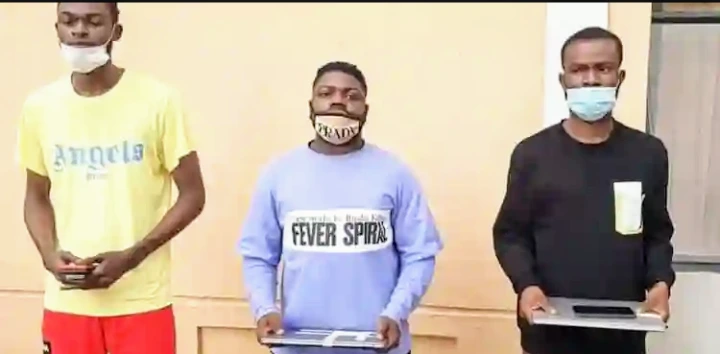 Three of the suspects.
The Economic and Financial Crimes Commission (EFCC) have arrested 9 suspected internet fraudsters at a room in Saftec Hotels, behind NNPC's mega petrol filling station, Minna, Niger State.
The suspects were arrested by operatives of the zonal command in Abuja.
They were arrested following information from concerned residents.
Their names were given as Ohanuka aged 26, Adebayo Adeyinka Samuel – 25, Omoh Simeon – 28, Igah Abumere – 26, Ajobo Sunday – 26 and one Samuel also 26.
Others included Abdukadir Musbau 20, Iredia Johnson – 29, Aliyu Abdulazeez – 25 and Adebisi Temitope – 27.
A Toyota Venza, laptops and exotic phones were recovered from the suspects.
They were reportedly involved in love scams and several other scams on the internet.
Since the arrest of billionaire fraudster Hushpuppi by the Dubai police in Dubai and his subsequent handover to the FBI who shipped him to the US where he is facing trial, several youngsters (now known as hushpuppies) who followed in his footsteps have been picked up across the country.
It is not surprising that in a country where youths roam about with no jobs, crime seem the perfect alternative.
Tell us what you think of this in comments section below.