Police Storms Catholic Secondary School in Enugu, Disperse IPOB Members in Meetings
Select Language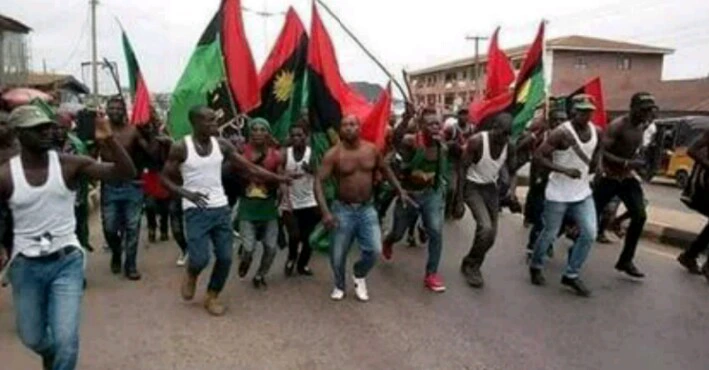 It was a black Sunday in Enugu as members of the Indeginious People of Biafra (IPOB) had a face off with the police early hours of today.
According to the Sun, a witness said trouble started at about 7.00am when some police personnel stormed an IPOB gathering at Community Secondary School Emene and attempted to disperse the group and make arrests.
The encounter was said to have turned bloody when the Biafra campaigners overpowered the security agents and went ahead to sack Emene police station.
In a swift reaction, a large reinforcement was called and over a dozen patrol vans loaded with armed security agents comprising police, army and DSS arrived the scene and faced the Biafran agitators.
Sounds of gunfire and teargas fumes filled the area, particularly between St Patrick Secondary School and St Joseph Catholic Church along the old Abakaliki Road.
The clash threw the whole Emene and environs into chaos and disrupted church services as worshippers of the various churches in the area ran helter-skelter to escape being caught in the crisis.
Many have been feared dead in the ensuimg crisis even as many of IPOB members have been allegedly arrested.
Neither the Enugu State Police. Command nor the IPOB leadership. have release d a statement on the fracas.