Clash of Powers: Izaga Masquerade Charmed While Performing
Select Language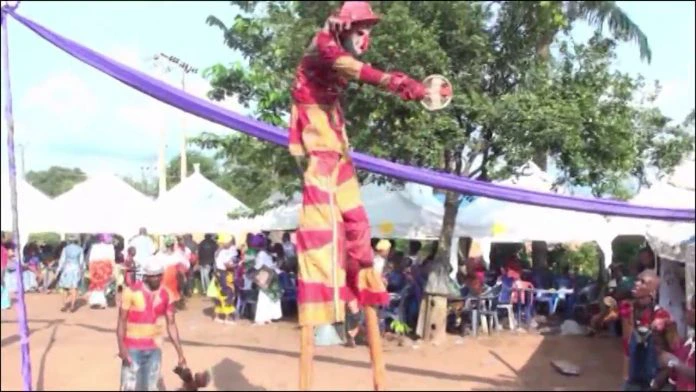 One of the popular frontline masquerades in Igbo land, Izaga, that is also the tallest, was reportedly charmed and it slumped while on display at the compound of a native doctor, Chief Anyakorah Ambros (a.k.a, Ikpemalueziokwu) in Uruebo village, Nkwelle-Ezunaka, Oyi Local Government Area, Anambra state, last Sunday during the new yam festival.
Trouble was said to have started for the Izaga masquerade when it stormed the compound where scores of other masquerades were on stage, displaying the stuff they were made off, with charms fortified all over their bodies especially the visiting ones that were at the arena on the invitation of the native doctor.
As it came on board at the stage, displaying and became the centre of attraction, thrilling the crowd, it suddenly slumped on top of the spectators and became motionless.
For close to 20 minutes it was gasping for breath and its members later, assisted in raising it to stand on its feet before finally it managed to leave the stage.
According to an eyewitness who identified himself as Emma Emechiem, "that Izaga  masquerade did not know that it has to fortify its to be able to challenge those Ijele, hipopotamus and elephant masquerades that  always go with charm"
"They saw it displaying more than them and had to charm it, bring it down as a small masquerade and you could see that it is still  not settled, fear still grips it and it has managed to disappear on recoverying itself".
Speaking on the new yam festival, chief Anyakaorah, the host who did not want to speak on the incident said that it was a time to thank God for plenty harvest of farm produce.
"Church celebrates it as harvest and bazzar while we have it as harvest and merriment period and that is what we are doing now".
"Whoever that God blesses through me uses an occasion like this to come and thank God for what He has done to him like healing him of his sickness, protection from evil, being rich, etc"
highlight of the event was presentation of gifts by Anyakaorah to masquerades and special guests.
Earlier, his sibling, Hon. Vincent Anyakaora, said the celebration was an annual event performed by his elder brother adding that it is always full of fun, entertainment, display of masquerades and merry making.