Enugu Massacre: Ohaneze Tipped to DE-Proscribe IPOB
Select Language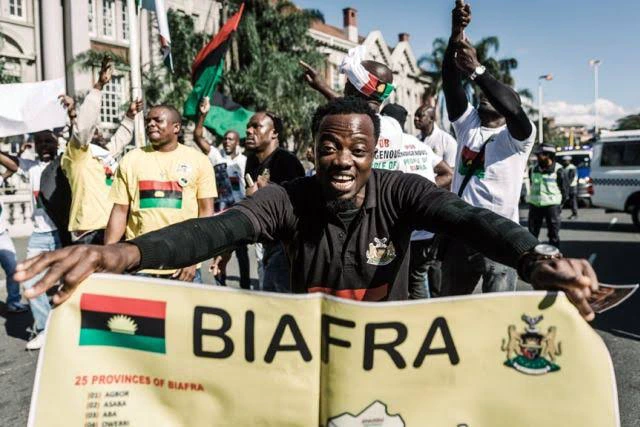 An Igbo socio-economic political group, Nzuko Umunnem has called on the apex Igbo body, Ohanaeze Ndigbo to intervene and seek the de proscription of the Indegenous People of Biafra)
(IPOB) by the Federal govefy
The group in a letter to Ohanaeze President, Nnia Nwodo, regretted the recent killing of alleged IPOB members I Emene , Enugu state
Nzuko Umunna in the letter,
signed by its Coordinator and Secretary, Ngozi Odumuko and Pascal Mbanefo respectively, noted that the continued bloodletting by security agencies among the ranks of Igbo youths suspected to be members of IPOB has largely gone unchallenged.
"What is more, these killings seem to have become more frenzied on the heels of the highly controversial proscription of the Indigenous Peoples of Biafra (IPOB) in January 2018. It has become apparent that the security agencies now use the controversial proscription as a veritable excuse and smokescreen not only to unleash mayhem on unarmed Igbo youths, but to also escape justice in light of these grave extra-judicial killings.
"It is highly instructive that IPOB has always professed a commitment to non-violence.
"We note that similar organisations in Nigeria including the Movement for the Emancipation of Niger Delta (MEND), O'odua Peoples Congress (OPC), Miyetti Allah Cattle Breeders Association and Arewa Youths Forum (AYF) have neither witnessed the level of onslaught unleashed on IPOB members nor has the Federal Government made any move to proscribe them.
"In an era when rampaging killer-herdsmen are roaming around with sophisticated weapons including AK-47 rifles unchallenged by security agencies, it is unacceptable that a group that has consistently professed non-violence should be shut out from exercising its rights as secured by Nigeria's Constitution.
"We note that the rights of indigenous peoples to self-determination are secured under International Law and by sundry United Nations instruments and convention.
"In particular, we note the observation of the United Nations Special Rapporteur on Indigenous Peoples, Victoria Tauli-Corpuz that there is a "systematic violation" of the rights of indigenous people's through arbitrary arrests and "labeling of indigenous organisations, leaders and activists as terrorists."
"Accordingly, we urge you to use your good offices to mobilize men and women of goodwill towards a deproscription of IPOB. This will stem this continued bloodletting among Igbo youths and ensure accountability within the IPOB ranks, as the activities of its members will not be carried out in a covert manner" The group pleaded in the letter which has also copied to other Igbo elders, traditional rulers and religious