Hottest Newspaper Headlines for Tuesday, Sept 1st
Select Language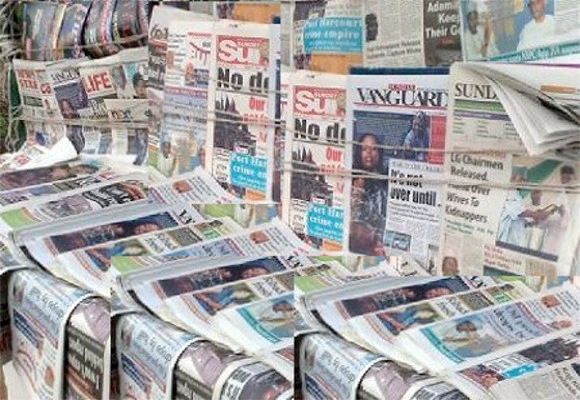 Sahara Reporters Latest News Today Tuesday 1st September 2020
Sahara Reporters Latest News Today and headlines on some of the happenings and news trend in the Country, today 01/09/20
I Look Forward To The Day Nigeria Rewards Hard Work, Says Nigeria-born Lawyer Appointed Minister In Canada
Kaycee Madu, a Nigerian lawyer recently named Minister of Justice in Alberta, a Canadian province, says he looks forward to a day when appointments are based on hard work and merit in Nigeria.
Madu recently became the first African to be appointed Minister of Justice in the Canadian province.
Before his appointment, he was a member of the legislative assembly of the province representing the district of Edmonton South-West after winning the 2019 Alberta general election.
On April 30, 2019, he was appointed to the Executive Council of Alberta as the Minister of Municipal Affairs.
In a tweet on Sunday evening, Madu thanked Nigerians, who celebrated his appointment.
"Thank you for all the support and prayers coming from Nigeria and Nigerians in the diaspora.
"I look forward to the day when Nigeria and Africa become places where hard work and merit are rewarded. Chukwu Gozie!," he said.
E2%80%99s-move-take-n300bn-loan-china Kano Elders Write Buhari, Kick Against Ganduje's Move To Take N300Bn Loan From China
The Kano State Elders Forum has asked President Muhammadu Buhari to stop Governor Abdullah Ganduje's plan to borrow about N300bn from China for a light rail project in the state.
The group in a petition to Buhari accused Ganduje of planning to plug the state into needless indebtedness with the white elephant project, a liability several generations may find difficult to bear.
The forum asked the President and other concerned authorities to intervene to save Kano from multiple indebtedness beyond the current liability.
SaharaReporters gathered that the Kano light rail project was one of the major causes of the break down in relations between former Emir of Kano, Muhammadu Sanusi II, and Ganduje.
Sanusi had in an investment forum in 2017 castigated the rail project.
He said at the time, "At the end of the day, what do you benefit from it? Your citizen will ride on a train and when you ride on a train in Northern Nigeria, in a state like Kano or Katsina, where are you going to? You are not going to an industrial estate to work.
"You are not going to school? You are not going to the farm. You borrow money from China to invest in trains so that your citizens can ride on them and go for weddings and naming ceremonies."
Meanwhile, a group of youths under the umbrella of Collation of Kano State Students, Youth Parliament and Youth Traders Association on Monday held a protest in support of the governor's move to take the loan for the light rail project.
The group in a letter of solidarity signed by its Chairman, Rabiu Ibrahim, commended Ganduje for repositioning the state into an economic hub and tackling infrastructural deficit.
The letter reads, "With due respect and honour, we acknowledge your projects for the development of Kano State especially the light train project, Kano ultra modern market located at old Daula Hotel and street beautification with modern bridges such as Alhassan Dantata Bridge, Dengi underpass, Kofor mata Bridge, Katsina Road underpass.
"The main reason for our gathering is to condemn those who call themselves Kano elders while they have not contributed anything to the development of Kano State."
:
Contractors Protest Non-payment of Project Fees At Finance Ministry In Abuja
A group of contractors on Monday in Abuja staged a protest at the Ministry of Finance complex over non-payment of contracts they had carried out for various ministries, departments and agencies of the Nigerian Government.
The protesters alleged that billions of naira had been approved and released by the Presidency to settle the liabilities but the Minister of Finance, Budget and National Planning, Mrs Zainab Ahmed, had refused to pay them.
Spokeperson for Local Contractors of Nigeria, Dandy Rowland, said the delay in the payment had subjected many of their members to hardship and harrowing experiences across the country.
Rowland said the Minister of Finance through her Special Adviser on Media had on July 8, 2020 told them that the sum of N18bn had been released to pay local contractors and that the payment would be made within 14 days of the announcement.
He added that Presidential Initiative on Continued Audit in the ministry had verified the contracts executed by their members and recommended the payment of all contractors in batches beginning with N10m downwards.
He said the ministry had refused to yield to the recommendations by the committee.
He said, "The Finance Minister is still talking of verification every now and then in order to manipulate the payment against PlCA's recommendation."
He lamented that funds being spent on the verification exercise was almost higher than the amount owed local contractors put together.
The protesters therefore appealed to President Buhari to prevail on the minister to pay them their money before they die of hunger.
The minister was not available for comments on the matter and no official of the ministry was ready to speak because they were not authorised to do so.
:
E2%80%99t-tolerate-any-disrespect-buhari%E2%80%99s-political-appointees-again- National Assembly Won't Tolerate Any Disrespect From Buhari's Political Appointees Again –Senate President, Lawan
Ahmad Lawan
President of the Nigerian Senate, Ahmed Lawal, has warned government ministries, departments and agencies against disrespecting the National Assembly.
Lawan said federal lawmakers would no longer tolerate appointees of President Muhammadu Buhari abusing them.
Ahmad Lawan
He made this known to journalists after Buhari inaugurated the Executive, Legislative Party Consultative Committee at the Council Chamber of the Presidential Villa, Abuja.
He said, "I believe that should be the end of it (appointees knocking heads with legislature). We believe that we should work together.
"Mr President made it very clear that he is not going to tolerate any of his appointees doing things that are not respectable, things that have no dignity to the National Assembly.
"For us in the National Assembly, I think what has happened has happened. We pray nobody goes to the National Assembly to do the kind of things that disrespect the President and of course abuse the National Assembly.
"We are not going to tolerate that because anyone who wants to see Nigeria progress will continue to ensure that this consultative forum produces the kind of result and outcomes that will make Nigeria better in terms of governance."
:
RCCG General Overseer, Adeboye, Visits President Buhari In Aso Rock
General Overseer of the Redeemed Christian Church of God, Pastor Enoch Adeboye, on Monday visited President Muhammadu Buhari at the State House in Abuja.
Buhari's Personal Assistant on New Media, Bashir Ahmad, disclosed this via his verified Twitter handle.
"President ‪@MBuhari‬ receives in audience General Overseer of the Redeemed Christian Church of God (‪@rccghq‬), ‪@PastorEAAdeboye‬, at the State House, Abuja," he said.
The meeting reportedly took place in the President's official office.
Adeboye had earlier in the year joined other leaders in the country to condemn rising insecurity across Nigeria.
He led members of his church on a protest march in Lagos to register his displeasure at the situation.
Earlier this month, Christian leaders slammed President Buhari's government for introducing the Company and Allied Matters Act, which empowers a federal ministry and Corporate Affairs Commission to regulate the affairs of churches.
The topic is still a burning subject and it is believed that it could form part of Adeboye and Buhari's discussion during the cleric's visit to the Presidential Villa on Monday.
Disable advertisements
:
Atiku Asks National Assembly To Reject Non-viable Loan Requests
Former Vice President of Nigeria, Atiku Abubakar, has said that he cannot sit and watch the government of President Muhammadu Buhari squander the future of Nigerian Youth as well as generations yet unborn with loans that are not income-generating or production-based.
Atiku in a letter to the Senate President, Ahmad Lawan, asked the National Assembly to reject the approval of any new loan request meant for projects that are not viable.
He said Nigerians cannot sit back and watch "while our nation teeters towards financial peril".
Atiku added, "On May 29, 2015, Nigeria's total national debt stood approximately at N12trn. As of August 2020, our national debt has trippled to N28.63trn. Even more alarming is the fact that the foreign debt portion of our national debt has risen from less than $10bn on May 29, 2015, to almost $30bn in August 2020.
"A further cause for concern is the fact that not all of these debts are necessary. A study of the use to which these monies have been put to will show that much of it has gone towards items or project that are non-productive or viable.
"As such, in view of your role as a check on the excesses of other arms of government, may I suggest that going forward, the National Assembly should refuse to approve any new loan requests, where such loans are to be spent on projects or items that are not income-generating or production-based, or indeed viable."
:
E2%80%99s-hellish-covid-detention-centres Investigation: African Migrants 'Left To Die' In Saudi Arabia's Hellish Covid Detention Centres
"Plenty of inmates are suicidal or suffering from mental illnesses as a result of living this for five months," said one prisoner
Migrants are scarred following beatings by the guards
Dozens of emaciated men crippled by the Arabian heat inside one of Saudi Arabia's detention centres
Saudi Arabia, one of the wealthiest countries on earth, is keeping hundreds if not thousands of African migrants locked in heinous conditions reminiscent of Libya's slave camps as part of a drive to stop the spread of Covid-19, an investigation by The Sunday Telegraph has found. Graphic mobile phone images sent to the newspaper by migrants held inside the detention centres show dozens of emaciated men crippled by the Arabian heat lying shirtless in tightly packed rows in small rooms with barred windows.
"Plenty of inmates are suicidal or suffering from mental illnesses as a result of living this for five months," said one prisoner
Telegraph exclusive
One photo shows what appears to be a corpse swathed in a purple and white blanket in their midst. They say it is the body of a migrant who had died of heatstroke and that others are barely getting enough food and water to survive.
Another image, too graphic to publish, shows a young African man hanged from a window grate in an internal tiled wall. The adolescent killed himself after losing hope, say his friends, many of whom have been held in detention since April.  The migrants, several displaying scars on their backs, claim they are beaten by guards who hurl racial abuse at them. "It's hell in here. We are treated like animals and beaten every day," said Abebe, an Ethiopian who has been held at one of the centres for more than four months.
Migrants are scarred following beatings by the guards
Telegraph exclusive
"If I see that there is no escape, I will take my own life. Others have already," he added via an intermediary who was able to communicate on a smuggled phone.  "My only crime is leaving my country in search of a better life. But they beat us with whips and electric cords as if we were murderers."
The images and testimony have sparked outrage among human rights activists, and have particular resonance in light of the global Black Lives Matter protests. "Photos emerging from detention centres in southern Saudi Arabia show that authorities there are subjecting Horn of Africa migrants to squalid, crowded, and dehumanising conditions with no regard for their safety or dignity," said Adam Coogle, deputy director of Human Rights Watch in the Middle East, after being shown the images by The Sunday Telegraph.
"The squalid detention centres in southern Saudi Arabia fall well short of international standards. For a wealthy country like Saudi Arabia, there's no excuse for holding migrants in such deplorable conditions," Mr Coogle added.
Oil-rich Saudi Arabia has long exploited migrant labour from Africa and Asia. In June 2019, an estimated 6.6m foreign workers made up about 20 per cent of the Gulf nation's population, most occupying low paid and often physically arduous jobs.
The migrants work mainly in construction and manual domestic roles that Saudi nationals prefer not to do themselves. Many are from South Asia, but a large contingent come from the Horn of Africa, which lies across the Red Sea.
The detention centres identified by The Sunday Telegraph house mainly Ethiopian men and there are said to be others packed with women.
Over the last decade, tens of thousands of young Ethiopians have made their way to the Gulf state, often aided by Saudi recruitment agents and people traffickers, in a bid to escape poverty back home.
They have been trapped partly as a result of the pandemic but also by the 'Saudization' of the kingdom's workforce, a policy introduced by Muhamad Bin Salman, the Crown Prince who took power three years ago.
Dozens of emaciated men crippled by the Arabian heat inside one of Saudi Arabia's detention centres
The testimonies gathered by The Sunday Telegraph directly from migrants on encrypted channels about the conditions they now find themselves in are harrowing.
"Plenty of inmates are suicidal or suffering from mental illnesses as a result of living this for five months," said one. "The guards mock us, they say 'your government doesn't care, what are we supposed to do with you?"
"A young boy, about sixteen, managed to hang himself last month. The guards just throw the bodies out back as if it was trash," said another.
When the pandemic struck in March, the Saudi government in the capital Riyadh feared the migrants, who are often housed in overcrowded conditions, would act as vectors for the virus. Almost 3,000 Ethiopians were deported by the Saudi security services back to Ethiopia in the first ten days of April and a leaked UN memo said a further 200,000 were to follow.  A moratorium was then placed on the deportations after international pressure was brought to bear on Riyadh.
The Sunday Telegraph has found many of the migrants who were slated for deportation five months ago have been left to rot in disease-ridden detention centres.  "We have been left to die here," said one, who said he has been locked in a room the size of a school classroom and not been outside since March.
"Covid19? Who knows?, he added, "There are a lot of diseases here. Everyone is sick here; everyone has something."
The images smuggled out show many of those held are plagued by disfiguring skin infections. They claim they have received no medical treatment.
"We eat a tiny piece of bread in the day and rice in the evening. There's almost no water, and the toilets are overflowing. It spills over to where we eat. The smell, we grow accustomed to. But there's over a hundred of us in a room, and the heat is killing us," said another young Ethiopian man.
A short video clip smuggled out shows several rooms covered with filth from an overflowing squat toilet. One Ethiopian man can be heard shouting out: "The toilets are clogged. We tried unblocking them, but we're unable to. So we live in this filth, we sleep in it too."
"To the Saudis or even to Abiy, it's like we're ants. When we die, it's as if an ant died, no one cares or pays attention," the man added, referring to Ethiopia's Nobel Peace Prize-winning Prime Minister Abiy Ahmed.
Saudi Arabia is deeply stratified by race and cast.
African migrants enjoy few legal rights and many complain of exploitation, sexual and racial abuse from employers.
New laws further limiting the rights and employment prospects of foreign labourers were introduced in 2013 and crackdowns have continued under the rule of the young Crown Prince Muhamad Bin Salman, who took power in 2017.
The Sunday Telegraph was able to geolocate two of the centres. One is in Al Shumaisi, near the holy city of Mecca and one is in Jazan, a port town near Yemen. There are believed to be others housing thousands of Ethiopians.Migrants in each of the centres said there were hundreds of them in each room. Satellite imagery shows there are several buildings at both centres, meaning there may be far more migrants in each centre who are uncontactable.
Several of the migrants said they had been rounded up from their homes in various Saudi Arabian cities before being placed in the camps. Others are African refugees from war-torn Yemen.
Earlier this month, Human Rights Watch reported that Houthi forces used Covid-19 as a pretext to expel thousands of Ethiopian migrants into neighbouring Saudi Arabia.
Testimonies gathered by the NGO say that the Houthis killed dozens of Ethiopians and forced others at gunpoint over the Saudi border. Saudi border guards then fired on the fleeing migrants, killing dozens more. "Saudi Arabia, a wealthy country, has long held undocumented migrants including many from the Horn of Africa in conditions that are so crowded, unsanitary, and appalling that migrants often emerge traumatised or sick," said Mr Coogle.  "It's fair to question whether Saudi authorities are purposefully allowing these detention conditions to exist in order to punish migrants," he added.The Sunday Telegraph approached the Saudi Arabian embassy in London for comment but had not received any at the time of going to press.  A representative of the Ethiopian government in the Middle East was also unsuccessfully approached for comment.   *Migrants' names have been changed to protect their identity
Group Threatens To Sue Governor Ugwuanyi Over Killing Of Citizens In Enugu State By Security Forces
An Igbo group, Nzuko Umunna, has threatened to drag governor of Enugu State, Ifeanyi Ugwuanyi, to court in the next four weeks if he fails to set up a Judicial Commission of Inquiry to unravel the cause of the clash between the Department of State Services, Nigeria Police Force and the Indigenous People of Biafra, which left many dead on August 23.
The incident, which led to the death of some IPOB members, reportedly happened while they were in a meeting in Emene area of Enugu State.
In a statement, Coordinator of the group, Ngozi Odumuko, through their solicitor, Edwin Anikwem, said the unprovoked attack and murder of innocent and unarmed indigenes of Enugu had caused unrest within the state and environs, adding that the citizens were living in fear of who may be the next victim.
Mr Anikwem urged the governor to set up a Judicial Commission of Inquiry as provided under the Enugu State Commission of Inquiry Law, Laws of Enugu State 2004 to ascertain the immediate and remote cause(s) of the persons involved in the aforementioned killings at Emeni and recommend appropriate sanctions.
He said, "It would be noted that sometimes around the 23rd August 2020, persons suspected to be state security officials opened fire on unarmed youths who were having various physical exercise/training in Emeni, Enugu State, and massacred them in cold blood.
"Your Excellency, this unprovoked attack and murder of innocent and unarmed indigenes of Enugu has caused unrest within Enugu and its environs as the citizens are living in fear of who may be the next victim. We wish to state that as the Chief Security Officer of Enugu State, one of your primary responsibilities is the protection of the lives and properties of citizens of Enugu.
"Given the above, we urge Your Excellency to set up a Judicial Commission of Inquiry as provided under the Enugu State Commission of Inquiry Law, Laws of Enugu State 2004 to ascertain the immediate and remote cause(s) of the persons involved in the aforementioned killings at Emeni, Enugu State, recommend appropriate sanctions to be meted out to persons identified to be related with the massacre and also profer solutions on how to prevent the future occurrence in the state.
"We believe that the execution of the above request will help to restore peace amongst citizens of Enugu State and its environs especially Emeni where the incident occurred.
"Please take notice that if after four weeks from the date of service of this letter on you, you fail, neglect and/or refuse to set up the Judicial Commission of Inquiry as requested, we shall institute an action against you without further notice. The cause of action of which will be failure to set up the Judicial Commission of Inquiry to look into the circumstances surrounding the killings of youths at Emeni Enugu by persons suspected to be security officials to prevent future occurrences."
The proposed relief to be sought in the court matter, according to him will include among others, "A declaration that the massacre of 22 unarmed youths who were various physical exercise/training by the police and officials of Department of State Services on or about 22nd August 2020 violated Section 33(1) of the 1999 constitution of the Federal Republic of Nigeria (as amended) and Article 4 of the African Charter on Human and Peoples' Rights (Ratification and Enforcement) Act Cap A9 LFN 2004 which guaranteed right to life and prohibits the killing of human beings without an order of the court.
"That the extrajudicial killing and/or massacre of 22 unarmed youths at Emeni by the officers of the Nigeria Police Force and Department of State Services on or about 22nd August 2020 violates the fundamental rights to life of the deceased and is therefore unconstitutional, illegal and unlawful.
"That the failure and/or refusal of the Governor of Enugu State to set up a Judicial Commission of Inquiry to look into the unlawful killing of over 22 unarmed youths on or about 22nd August 2020 at Emeni, Enugu State, by persons suspected to be security officials amounts to a dereliction of duty."
Anti-Social Media Bill And Its Inauspicious Effects On Democracy By Barrister Layi Ademokoya
Anti-Social Media Bill was proposed by the Senate of the Federal Republic of Nigeria on the 5th Day of November 2019; particularly pioneered and duly sponsored by Senator Mohammed Sani Musa with the intention of criminalizing the use of social media in peddling false or malicious information. The name of the bill was further tagged as "Protection from Internet Falsehood and Manipulations Bill 2019".
It is apropos to say that after the passage of this bill at the stage of second reading on the floor of senate the details were made public which actually generated a lot of controversy and assertions that the bill is of no good and purports to gag the mouth of citizens of the Federal Republic of Nigeria.
In an outlook of the aforesaid events; it is visible to the blind and audible to the deaf that the proposed Anti-Social Media Bill will not arrive at an expected end by its promoters because it totally negates the provisions of the Constitution of the Federal Republic of Nigeria 1999 (as amended).
Section 39 subsection (1) and (2) respectively states that "Every person shall be entitled to freedom of expression including freedom to hold opinions and to receive and impart ideas and information without interference. Subsection (2) Without prejudice to the generality of subsection (1) of this section, every person shall be entitled to own, establish and operate any medium for dissemination of information ideas and opinion:The above provision gives room for dissemination of information which can possibly be true or false. An opinion given by an individual can be true or false depending on the knowledge the individual possesses in regards to such opinion; if an information received by a third party and disseminated by the said third party is false, will it be Democratic or Logical to make the dissemination of such information an offence? My answer is NO.
Each Individual understands and interprets information differently; therefore will communicating such information to a third party or the general public become an offence in a democratic nation? My answer once again is NO.
Anti-Social Media Bill purports to deny citizens of Nigeria their right of freedom of expression under the Constitution of the Federal Republic of Nigeria 1999 (as amended).
Freedom of expression is an idiosyncrasy of a democratic society and Nigeria is a democratic nation in which a law purporting to deny its citizens of his fundamental human rights will not stand as Nigeria is not China or Russia that practices an autocratic system of government.
Democracy by Abraham Lincoln is a government of the people, by the people and for the people, so this theory is a grail of a democratic nation in which the Laws are made in the interest of the people and not the Laws made against the people.
Needless to say that the plan to pass Anti-Social Media Bill into law is tantamount to taking away the voices of the citizens of the Federal Republic of Nigeria which is also a demonstration of the features of a dictatorship state that has no tolerance to criticism and genuine public opinion.
The malicious information or false allegations that the Nigerian government kicked against on the media can be perfectly remedied by our courts under a meritorious suit for either Libel or Slander hence the
rationale behind the National Assembly passing the said Anti-Social Media Bill is preposterous.As a Human right advocate and a concerned citizen of our great country Nigeria I strongly recommend that this Anti-Social Media Bill should be discountenanced and should never be assented by the President of the Federal Republic of Nigeria, peradventure it passes through third reading on the Floor of the Senate in order to avoid a similar misconception as regards passing into law the Companies and Allied Matters Act 2019, with some misconceived sections of this law that generated a lot of controversy.
Anti-Social Media bill without any wavering is undemocratic, unconstitutional, dictatorial, immoral, inequitable, unenforceable and if passed into Law can cause unrest, protest, chaos and eventually will fail the test of the Law if put to test in any competent court of jurisdiction.
Nigerian Security Forces Kill Two Bandits, Arrest 12 Others In Zamfara, Katsina
Nigerian troops are fighting jihadist insurgency in the northeastern part of Nigeria.
Nigerian security forces attached to Operation Sahel Sanity have killed two bandits and arrested 12 others in Katsina and Zamfara states over the last one week.
The operation also led to the release of several persons earlier kidnapped by the hoodlums.
Acting Director, Defence Media Operations, Brigadier General Benard Onyeuko, made the disclosure in a statement on Monday.
He said, "On 28 August 2020, troops deployed in Maru laid ambush on suspected bandits who attempted to invade Gobirawa Village but were repelled by combined efforts of troops and local vigilante.
"During the ambush, troops made contact with the armed bandits and engaged them with a heavy volume of firepower, neutralizing two of them in the process, while others escaped with gunshot wounds as traces of blood were seen on their withdrawal route.
"Troops deployed at Zakka, acting on credible intelligence arrested three suspected armed bandits namely Sagar Garba, Hafisu Mato, and Suleiman Sada.
"All arrested suspects are undergoing investigation while effort is ongoing to apprehend other criminals in the general area."