PHOTONEWS: Federal School of Statistics Ibadan Begins Lectures Today
Select Language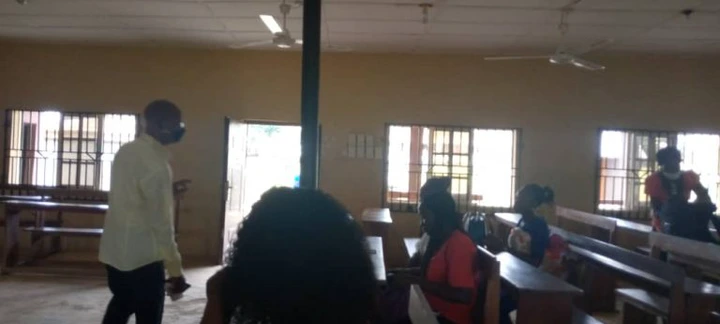 Following the earlier announced resumption date for all levels, Federal School of Statistics Ibadan campus HND students has resumed lectures for all departments on Tuesday 1st September, 2020.
Despite the number of students in attendance being too scanty, that didn't stop the lecture from holding as the lecturers are seen moving in and out of the lecture room taking different courses as pertaining to each department.
Students can be seen taking necessary measures such as social distancing in lecture halls in order to prevent the further spread of Covid19 and some are seen making use of their hand sanitizers and several other personal measures to ensure individual safety.
The campus which has been like a desert since the lockdown is slowly coming back to life as Students starts moving into campus greeting each other as they get settled in their studies. Everyone seem to be happy to be back to school even the animals could feel the reverberating happiness.
The inhabitants of Shasha are obviously glad to have the students resume back to school as the presence of students means they can sell their wares and have a means of livelihood again.
The lecturers are as well happy to resume back to work. It truly has been a really long holiday necessary for safety of all students as well as every citizen of Nigeria. But one can not but wonder if all activities designed to take place in second semester would still take place but regardless, everyone is certainly happy to be back on campus.
This is therefore a call back for all students that the management are true to their words and has commence lectures as promised. Therefore, all other HND students are expected to resume fully in other to follow the lessons accordingly while the OND Students are expected back to school on the announced date.