Biafra: Middle Belt Youths Meets Uwazuruike, Pledges Alliance
Select Language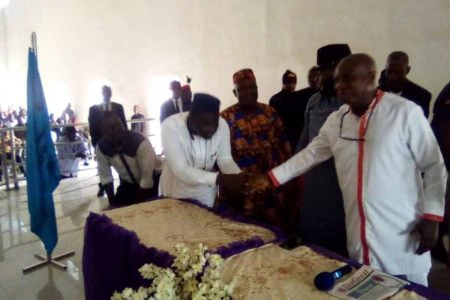 A group, the Middle Belt Youth Council, has apologised to the Igbo nation over the role residents of the region played against Biafra during the 30-month civil war and pleaded for forgiveness.
A delegation of the group, led by its president, Mr Emmanuel Zopman, made this apology during a courtesy visit to the founder and leader of Movement for the Actualisation of Sovereign State of Biafra, MASSOB, Chief Ralph Uwazuruike, in Owerri, Imo state, last Sunday.
Zopman, who was received at the Ojukwu Memorial Auditorium, (Freedom House) Owerri, said: "as we are here, we represent the entire middle belt leaders. Whoever and whatever capacity you can imagine from the Middle Belt, is ably represented here".
"It is our delight to say to Ndigbo, that by value of our common existence, we are brothers and should live in peace and have cordial relationship. Both of us here know that Ndigbo and Middle Belt have a common boundary (in) between Kogi and Benue states".
"We respect Chief Ralph Uwazuruike, because he has liberated Ndigbo worldwide and it is our joy that Ndigbo have someone who is fearless, strategic and calculative for their liberation. That is why, today, Ndigbo will not be what others want them to be but they will be what they want to be".
"In this respect, we feel we have to give him this honour to come here to share our thoughts with him because he is the emblem and the face of the liberation of the Biafrans as it is today. So, we are here today to appeal to the Igbo nation that the Middle Belt people are not your enemies anymore. This is our appeal."
"And in this regard, we also want Ndigbo worldwide to take the Middle Belt people as their friends and brothers forever".
Zopman expressed worry over the present insecurity in the country which he attributed to the Fulani herdsmen and called for a united force between the Igbo and Middle Beltans to fight the menace.
His words, "the insecurity ravaging the country is a deliberate plan to take over our land and displace people from their ancestral homes," adding that, "the united force will never allow that to happen as the land was given by God to our ancestors to protect and be buried there."
"Therefore, we have to form a united force to ensure we protect the ancestral home that God gave our forefathers and they gave it to us which they were buried on and we shall not allow that to be taken away by foreigners," he said.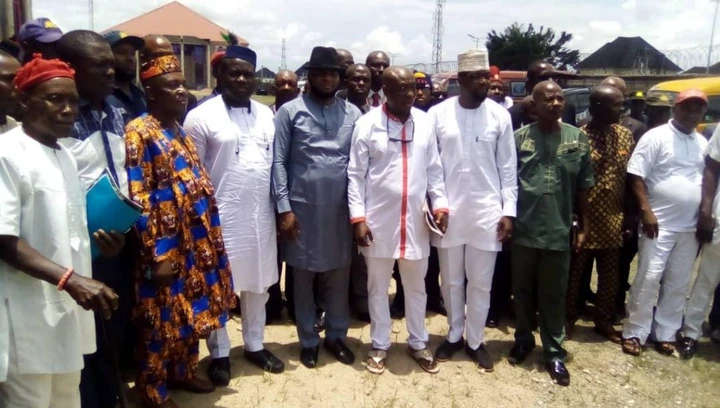 "As a collective force, if we stand by one common goal to ensure that we achieve the protection of our land and ensure that our people are free and we will surely achieve that."
He expressed optimism that with Chief Ralph Uwazuruike, the Middle Belt and Biafra will be liberated and their land will be protected.
In his response, Chief Uwazuruike, applauded his august visitors for their historic visit, claiming that "Biafra is now a nation with all organs of government perfectly put in place."
"We thank you for this visit; at least to come and tell us sorry for what happened during the 1967-1970 Civil war. We tell you that we are sorry too and we have accepted you as our own. The past remains in the past and it's gone forever; we shall face the future together."
He promised the delegation that, "our people all over the world will hear of this visit. It is the beginning of a new day."