Many Arrested As Anti-Government Protests Erupts In Jordan
Select Language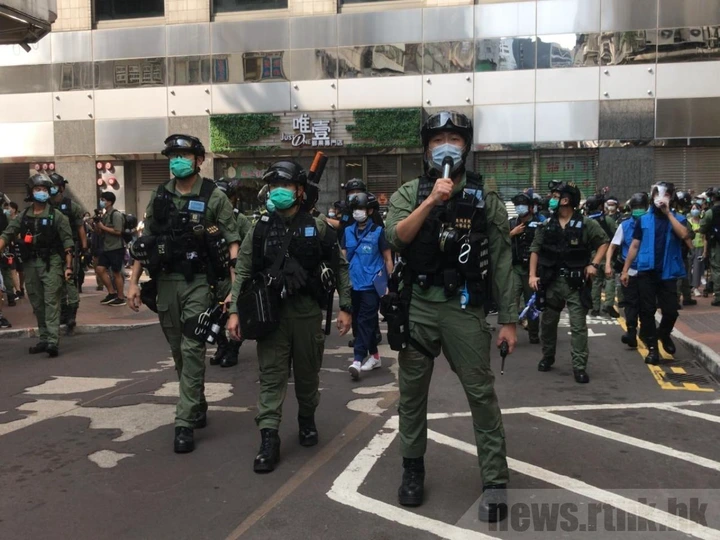 Police officers were out in force in Kowloon on Sunday in response to calls on social media to stage anti-government protests on what would have been the day of the Legislation Council election.
Those taking to the streets in Jordan to join an unauthorised rally – and in defiance of the government's ban on gatherings of more than two people – were also speaking out against the national security law and the launch of the "health code".
The League of Social Democrats said three of its core members – Leung Kwok-hung, Raphael Wong and Figo Chan – were arrested by the police near Eaton Hotel in Jordan. They were seen trying to protest against the government's decision to delay the Legco election but police quickly intervened and stopped them.
People could be heard chanting anti-government slogans as they walked down the street in the area on Sunday afternoon, while police issued warnings that they were in breach of social-distancing regulations.
Officers also conducted stop-and-search operations. Witnesses said buses at the Kowloon-end of the Western Harbour Crossing were checked.
A man, who's wearing a yellow mask and a black top, said he had been stopped and searched three times along Nathan Road.
Another person in a wheelchair bearing a flag with "umbrella revolution" written on it was also stopped, and a young woman was seen being put into a police van.
Pro-democracy activist Joshua Wong was also seen outside Eaton Hotel. He said he wasn't sure if he would join the march due to the heavy police presence.
"The sixth of September should be the election day and now Beijing delayed and even canceled the election, which is totally unreasonable. The only way out is to restart and relaunch the election immediately," he said.
Wong also demanded that mainland authorities release 12 Hongkongers who were arrested by the Guangdong coastguard. They were said to be fleeing to Taiwan.
Police said on its Facebook page that officers had also taken away two minors, both 15, outside Mong Kok MTR station. It said one wasn't carrying his identity card, while the other carried a helmet and a respirator with him.
Officers said they will contact their parents for follow-up action.
The force also said it had found bags of bricks and stones in an alley in Yau Ma Tei and suspected that they were intended to be used in the protests.