Mbaka's BBNaija Saga: The True Story, The Hypocrisy And The Foul Outrages
Select Language
WE GIVE A DOG BAD NAME IN ORDER TO KILL IT
THINK BEFORE YOU THROW YOUR OWN STONE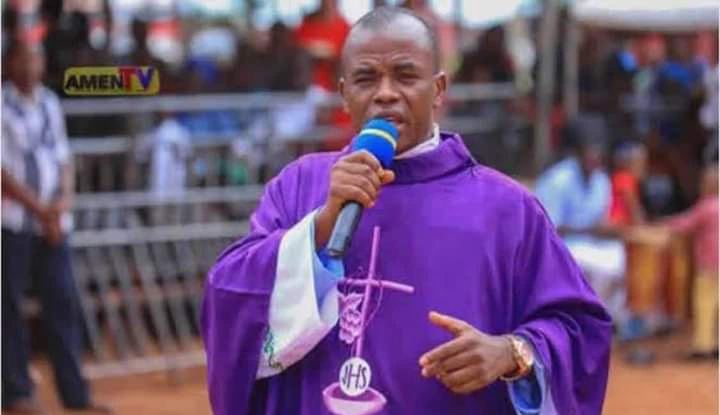 I have read a lot of arguments and judgements and criticisms over the latest homily of Very Rev. Fr Ejike Mbaka about what transpired in the Big Brother Nigeria reality show and I have come to realize that Nigeria still have trillion miles to go with all the arguments and logic I have been reading on social media.
It has been long I wrote about issues like this after I observed that we have more hypocrites and sycophants in Nigeria who operate on double standard rather than those who look at issues critically and with rational arguments and judgements.
Consequently, I was pushed to go scout for this particular homily in order to get the real background and standpoints of Fr. Mbaka rather than judge by the short clips flying around. Obviously, it is easy to conclude on any nonsense by just seeing a 45 seconds video clip pushed into the media space by unknown figures with several intentions which one of them could be to malign and drag the name of the man in the mud but that's by the way.
I may be right or wrong but this is my own judgement. I want to begin from the Theme of Fr. Mbaka's homily on this particular day which from all I can deduce was centered primarily on HUMAN TOLERANCE AND FORGIVENESS.
It is very simple and easy for the mind to ignore the other side of his message than look at his words in the real sense in order to take the message home. Fr Mbaka from all I observed talked about tolerance both in marriage, between friends and tolerance in everything humans do and in general he talked about the need for people to correct others and deal with them in kindness and love. Don't forget, TOLERANCE AND FORGIVENESS.
On the other argument, I don't or want to know or give any moral or ethical judgements as per how Fr Mbaka got to know about the activities in BBN because,
1. He is a human being.
2. He is an adult
3. He has the right to watch whatever he wants in the comfort of his room
4. He could have come across the video just like anyone else in Nigeria. I don't watch BBN yet I do see some of the activities too in my own media space and sometimes I decide to see them but that's by the way and Fr Mbaka probably doing so is not totally out of place. I mean he is still living on earth.
5. In the congregation of Fr Mbaka, there are also those who follow BBN show and those people belong to the sheepfold too therefore, if Fr Mbaka tries to import what he saw in BBN show to make a clear point or drive his message home, I don't see any wrong in it.
Which one is better? Making reference to BBN show to convert one sinner or shying away from it and leaving a sinner to perish? I leave the answers to God and to you the Pharisees and hypocrites.
Moreover, for those who are saying he should use the pulpit to talk about Nigerian situation and politics and bla bla bla, Fr Mbaka has always been talking about the Nigerian situation. As a matter of fact, he has been allegedly facing torments because of some of his prophecies and utterances about political leaders so why the double jeopardy?
In addition, as a preacher, Fr Mbaka reserves every right to choose what he preaches on the pulpit as long as they are not ethically, morally and liturgically wrong and there's nothing wrong Fr Mbaka said in this particular homily. Don't forget, you're entitled to your own judgements and opinions as much as these ones are mine.
Furthermore, I want to talk to the self acclaimed "Saints On Earth" to continue doing the right things and work practically to make Nigeria better while they wait to die first before joining the saints in Heaven. Fr Mbaka's sermon is not the problem of Nigeria. In addition, there are lots of messages in Fr Mbaka's homily on this particular day, so why give the dog the bad name just to kill it? It's like a danger of a single story.
Finally, I suggest once again that People in Nigeria starts looking at issues as they are and judge issues rationally and critically before conclusion. Also, when you see or hear, it's not enough, try to find out by digging further because, while above, there's something below.
I know Fr Mbaka but he doesn't know me well yet it doesn't matter. What matters to me right now is that a lot of Nigerians are making mountains from a molehill.
Take Fr Mbaka's whole message and not just the part you want to use to sell your media handle. When you cut any part from the whole, the whole becomes incomplete and I trust that anyone who looks at the whole message will surely see what I am seeing.
Nigeria will be better anytime Nigeria started being sincere, truthful, real and expel all sorts of prejudice, sentiments, sycophancy or hypocriticism.
-Chinedumije-