School Reopening: Kogi State Releases 2nd And 3rd Term Academic Calendar
Select Language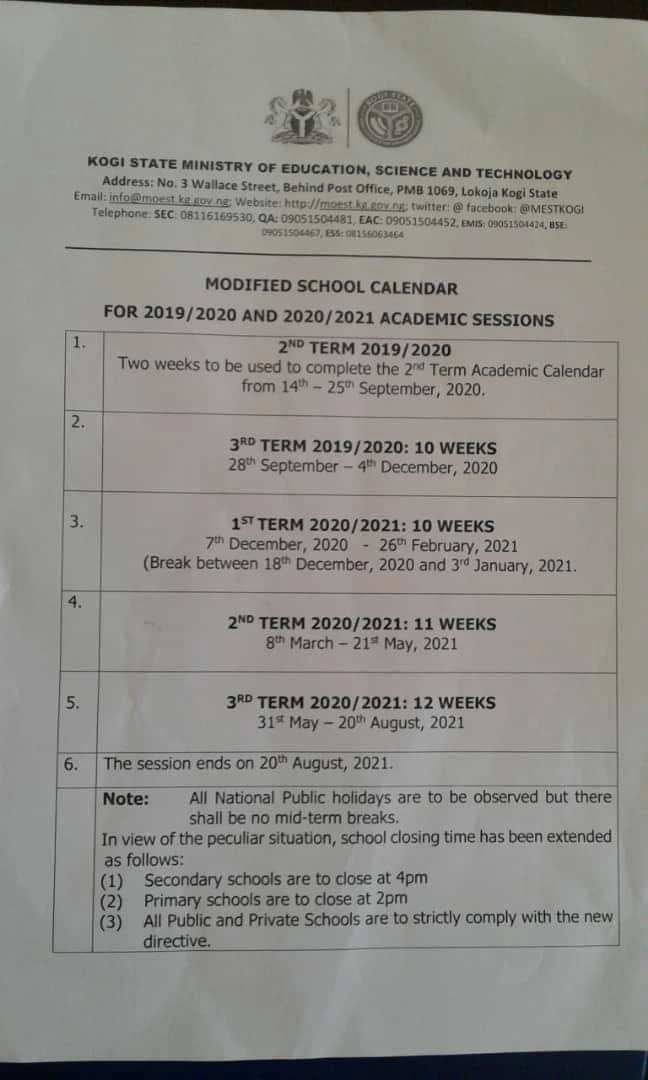 Kogi State ministry of science and technology has released academic calendar for students in both secondary and primary schools.
Recall that Kogi State government announced the resumption of school for all level last week as 14 September 2020. In preparation for the resumption the state government meet all the relevant stakeholders in education yesterday to deliberate on the resumption of school and the outcome of the meetings is as follows.
Both primary and secondary Schools are to resume on 14 September and will complete second term 2019-2020 for a period of 2 weeks.
Third term 2019-2020 academic session will start on 28 September-4 December 2020.
First term 2020-2021 academic session will start on 7 December-26 February 2021. They will be Christmas and new year break from 18 December to 3rd January.
Second term academic session will start on 8 March to 21 May 2021.
Third term academic session will start on 31 May to 20 August 2021.
All national public holidays are to be observe but no school holidays. All secondary Schools will now close by 4pm while primary school will close by 2pm.