Hottest Newspaper Headlines for Wednesday, Sept 9
Select Language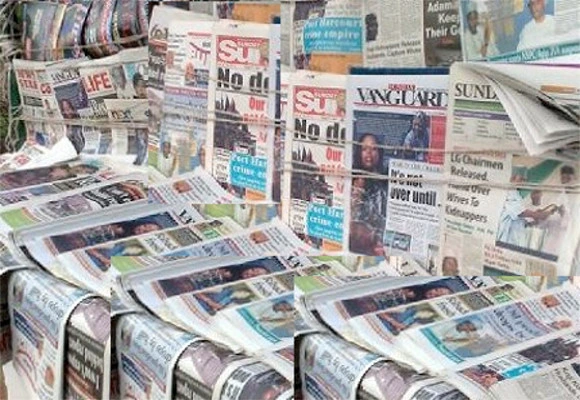 Guardian Newspaper Headlines Today Wednesday 9th September 2020
Top Nigeria news Dailies Update from Guardian Newspaper Headlines Today
Nigeria's border closure not good for regional trade, says NESG
The Nigerian Economic Summit Group (NESG), has charged the Nigerian Government to speed up plans of reopening closed land borders. The group in a statement titled "Matters of Urgency" said "expedite actions" should be taken on the "closed borders given its negative impact on trade and employment." Nigerian Government said the borders were closed to …
Bauchi governor apologises for pardoning serial rapist
Bauchi State governor, Bala Mohammed, has apologised for the state pardon he gave to some criminals during the COVID-19 lockdown. Among the freed inmates was a convicted serial rapist.
COVID-19: Plateau state tops, as NCDC announces 296 new infections in Nigeria
Plateau state topped the Coronavirus (COVID-19) pandemic as the Nigeria Center for Disease Control (NCDC) announced 296 new infections in the country.
Soldiers kill Benue's 'most wanted criminal,' Gana
The Nigerian Army has confirmed the killing of Mr Terwase Akwaza, alias "Gana," the 'most wanted criminal' in Benue state.
Niger exports fuel to Nigeria as Egypt, Algeria build 13 refineries
Neighbouring Niger Republic, which started commercial oil production in 2011, now exports petroleum products to Nigeria, as Egypt and Algeria lead African operations with 13 refineries.
Experts warn as ATMs breed dirty notes
Experts, yesterday, blamed the preponderance of dirty notes on corruption and lack of political will, as 22,000 Automated Teller Machines (ATM) dispense bad notes.
Protests in Oyo, Osun over fuel price, electricity tariff hike
Scores of students, workers and civil society groups stormed the streets of Ibadan, the Oyo State capital, yesterday, to express displeasure with the hike in price…
Buhari orders ministers, MDAs to stoutly defend regime's achievements
Worried about relentless criticism of his administration, President Muhammadu Buhari, yesterday, directed his ministers as well as the ministries, departments…
What I told Trump about Christian massacre, by Buhari
President Muhammadu Buhari yesterday stunned guests when he revealed what transpired between him and President Donald Trump over the American leader's allegation…
Christian leaders, SOKAPU shun peace summit on Kaduna crisis
Christian leaders and officials of Southern Kaduna Peoples Union (SOKAPU) yesterday boycotted a peace summit organised as part of efforts to stop the persistent attacks…