US 2020: Trump Orders US Navy To Retract Steps on Banning Catholic Chaplaincies
Select Language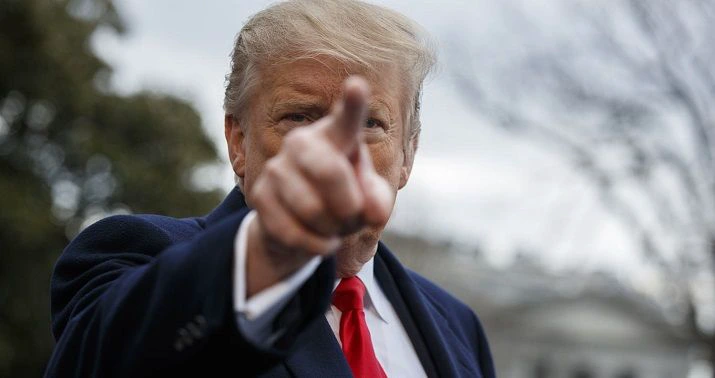 Give the man his props — Donald Trump sees an easy election-year dunk from a mile off. In this case, his action also reverses a strange penny-pinching decision by the US Navy, which I covered on Monday. Trump pledged to order the Navy to reinstate its contracts with Catholic parishes to provide Mass and sacraments to on-base personnel:
The United States Navy, or the Department of Defense, will NOT be cancelling its contract with Catholic Priests who serve our men and women in the Armed Forces so well, and with such great compassion & skill. This will no longer be even a point of discussion! @CardinalDolan

— Donald J. Trump (@realDonaldTrump) September 9, 2020
For those who missed the story over the weekend — and some in Trump's replies accused him of "making s*** up" — this was a real issue reported by the San Diego Union-Tribune last week. To cut costs, the Navy decided to end its contracting relationships with US-based Catholic parishes to serve its on-base personnel as discrete congregations. Because of the nationwide shortage of priests in the US Catholic Church (and in the western world in general), the chaplain corps has relatively few Catholic priests — and those get assigned to ship duty or overseas bases primarily.
So how much did these cancellations actually save? No one has yet produced a figure, but it can't have been much. As I noted on Monday, this looks like the same kind of pennywise-and-pound-foolish decision made by the Pentagon to save $15 million off its $700 billion annual budget by shutting down Stars and Stripes. It would likely be less costly to contract out than it would be to recruit more priests into the chaplaincy, since outsourcing almost always costs less overall — even if one could find enough priests to make that work.
The decision prompted ire from officers as well as enlisted sailors in San Diego, and threats of a legal challenge from the priest serving them:
"It's a Navy chapel — a community thing," said Anne-Marie Miley, a retired Navy pilot who said she has volunteered at the chapel for 11 years. "We get to meet up with other retirees and active-duty personnel. The church out in town has a large congregation; it's much more personal to go on base."

Richard Haas, a retired Navy captain who said he has attended chapel at Coronado for 30 years, agreed.

"It's part of being in the military — the camaraderie," Haas said. "To me it's synonymous, you all have a common thread — you served in the military."

Catholics on active duty also have needs many civilian priests can't accommodate, Pimentel said. Fulfilling the sacraments can be challenging for service members and their families when balancing deployment schedules.

"It's hard to quantify what I do," Pimentel said, saying he's done everything from performing weddings and baptisms to counseling families of service members who died by suicide.
The Stars and Stripes issue got Trump's direct attention, likely because he needs to keep his military-veteran voter base close to him. That issue got nationwide attention from the media, however, which increased pressure on Trump to intervene as journalists all over the country highlighted the closure of the military's most storied media outlet.
This time, however, the issue barely got any notice at all. So why did Trump personally and publicly intervene? I'd guess this has something to do with it:
According to a survey of 11,001 American adults conducted in July and August, released August 13, Pew found clear differences among racial groups within religious denominations over who they supported in the upcoming presidential election.

Pew found that registered voters who identify as white Catholics planned to support President Donald Trump by a margin of 19 points; 59% to 40%. Of those survey respondents who said they were supporting Trump in November, 42% said they "strongly" favored Trump. Only half of Joe Biden's white Catholic supporters said they were "strongly" supporting the former vice president.

The margin of error for the survey of white Catholics was listed as +/- 4 percentage points.

Conversely, among registered voters who identified as Hispanic Catholics, only 33% said they were supporting Trump, with 20% of those saying they "strongly" supported the president's reelection. Sixty-five percent of Hispanic Catholics surveyed said they supported Biden, with 23% of those saying that they "strongly" supported the candidate.

The margin of error for the survey of Hispanic Catholics was listed as +/- 6.4 points, meaning that as many as 39% of Hispanic Catholics or as few as 26% of Hispanic Catholics support Trump.
As I said, this is an easy dunk for Trump to burnish his cred with Catholics of all stripes. Trump won Catholics in the last election, but Joe Biden will be making his Catholic identity a major part of his pitch to peel off those voters in November. And in truth, it won't cost much either, which is a good reason for the Navy to have looked elsewhere for budget discipline in the first place.