UNIABUJA VC Speaks On ASUU Strike And Schools Resumption Date
Select Language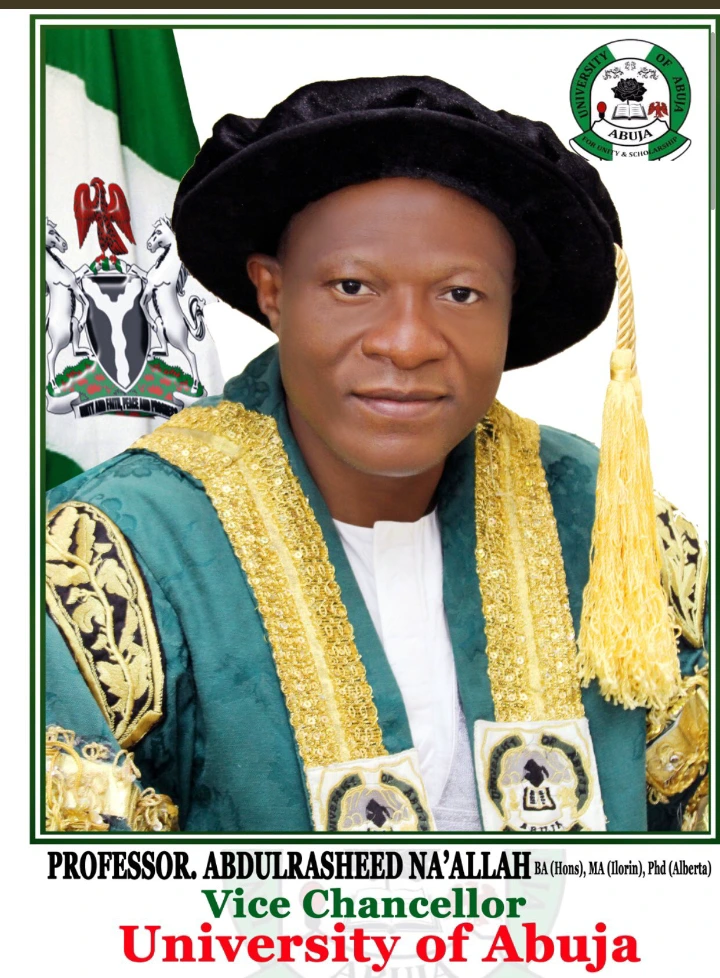 My dear University Community,
I am very happy to inform you about the continued development in your University despite the hardship of coronavirus. I must thank staff and students for continued cooperation towards reshaping the great UofA of Nigeria to a world class status. Your University has never been deterred to claim its rightful place wherever it is opportuned to do so. This is a great University, and we all must remain proud for the unique opportunity that we enjoy as the University for National Unity and our determination to be a model University in Nigeria!
Your University has continued to operate its UniAbuja Virtual Classroom system, with many of our students receiving lectures as part of our pilot program. We learn every day on how to improve our Virtual Classroom system, and soon as tests and examinations are given to students online, your University will design its secure virtual strategies and methods that would give it an edge over many Nigerian public universities. When hopefully our great staff resume from the ongoing national strike action, it is certain that even if COVID 19 continues to reign in Nigeria and globally, your UofA would be undaunted and can go 100 percent virtual classroom if the need arises.
The Centre for Entrepreneurship is holding regular Virtual Hall meetings and seminars and inviting great speakers to interact with our students on different exciting topics. If you have never participated in this ongoing webinar series by the Entrepreneurship Centre please be on the lookout for the next one and join from wherever you may be in the world.
I am happy to inform staff and students that several of our ongoing construction projects on campus are being completed and many new ones are taking off.
Your University has just started constructing an Academic Conference Centre (IGR funded), and this centre will include hotels and guest rooms and seminar facilities right on our Main Campus.
Other new constructions that are taking off are the Faculty of Law 500 capacity lecture theatre (Tetfund), Academic Office complex for Faculty of Law (Tetfund), 150 capacity lecture theatre for Faculty of Veterinary Medicine (Tetfund), Academic Staff Complex for Faculty of Environmental Sciences (Tetfund), Academic Office Complex for Faculty of Basic Clinical Science (Tetfund), Academic Office Complex for Faculty of Agriculture (Tetfund), all in foundation stage. The goal is to ensure that our staff and students have world class facilities and enough space for incredible academic experience in their own University!
Two constructions that are at the completion levels are the Academic Staff Office for Faculty of Veterinary Medicine (Needs Assessment Fund), the Faculty of Management Science Phase II (Tetfund).
My dear staff and students, your University has also determined that our great staff must begin to live inside our main campus, and also just awarded are constructions of Two and Three Bedroom semi detached buildings for Staff Quarters (IGR), with road that will lead to the staff quarters also taken care off.
Further more, among priority projects is the Completion of the Institute of Legislative Studies (now awarded with IGR funded). Others are Extension of Electricity from Academic Core to the Institute of Education (IGR), Access Road from Academic Core to Agric Farm and Staff Quarters (Appropriation), Departmental Buildings for Faculty of Pharmaceuticals (Tetfund), Installation of Street lights (IGR), Provision of farm house and other associated facilities at the Agriculture Teaching Farm (Tetfund).
It is also exciting to let you know that your University has received an allocation of 2020 Regular Intervention fund of N680 million from Tetfund. Apart from physical infrastructure which gets the bulk of N370 million from this fund, funds for Academic Staff Training and Development N150 million, Library Development of N40 million, Local Conference Attendance N20 million, Institutional Based Research of N50 million, Tetfund Project Maintenance of N15 million, ICT Support of N15 million, Entrepreneurship Centre of N10 million, Publications of journals of N5 million, and Manuscript development of N5 million. I have instructed the UofA Tetfund Desk Officer to invite the Centre for Sponsored Projects and the University Research Council to administer institutional based research grants without delay.
Among the future priorities of the University include Central Laboratories, faculty buildings, such as more lecture theatres, classrooms and staff offices. We also like to change the face of our University by embarking on landscaping and creating parks and gardens and ensuring that the brand of the great UofA of Nigeria stands out and unmistakably recognized world wide! Your University will utilize all areas of its massive land, with Zoos, Botanical gardens, and much more!
I am delighted to announce that the University Council in its just concluded meeting approved the promotion to several professorial cadres. Those promoted are, Dr Wasiu Olugbenga Gabadeen, as Full Professor of Educational Management; Dr. Ogbe Adamu Okuwa, as Full Professor of Veterinary Medicine; Dr. Idu Edwin Ejoga, as Full Professor of Agric Extension; Dr. Pam Z. Chuwang, as Full Professor of Field Crop Agronomy; Dr. Binta Ibrahim Maifada, as Full Professor in Educational Administration and Planning; Dr. Eunice Bose Oke, Full Professor of Educational Management; Dr. Mathew Sunday Dada, as Associate Professor of Educational Management and Planning; Dr. Biyaya Beatrice Nwankwo, as Associate Professor of Community Medicine; Dr. Yunusa Thairu, as Associate Professor of Medical Microbiology and Parasitology; and Dr. Hamza Nauzo, as Associate Professor of English Language. I hereby convey my warm congratulations to all these deserving and exceptional academic staff of the UofA!
More promotion of academic and non-teaching staff would be treated at the next Council meeting as Council has asked A&PC to meet soon to address some issues concerning staff that have applied for promotion and resolve all matters concerning interviews and position vacancies and recommend to Council.
Finally, I like to assure all staff and students that your University will continue to resolve its difficulties, no matter how tough. The goal is to take the UofA to new heights and ensure that we are all proud of the University.
I look forward to seeing you around. Please feel free to contact me if there is any way I can be helpful in the distance of your duties at the University.
Abdul-Rasheed
(VC Uniabuja)