Hottest Newspaper Headlines for Friday, Sept 18
Select Language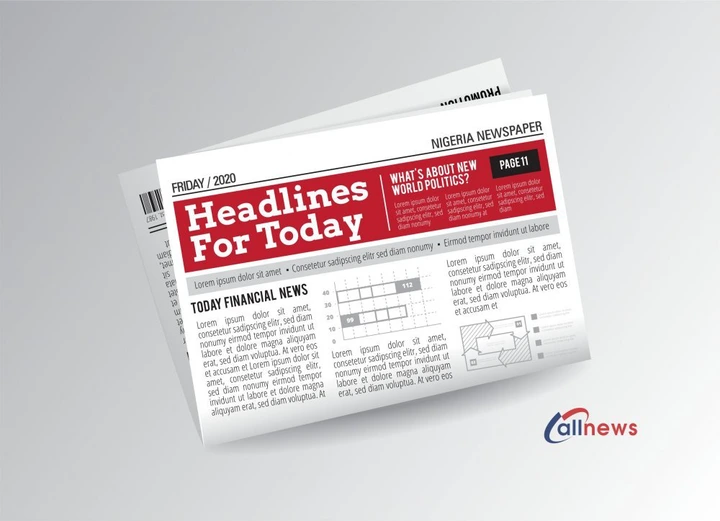 Welcome to the  roundup of the 10 Nigerian newspapers headlines for today Friday, September 18th, 2020.
1. Kaduna Train Attack: Buhari's Govt. Will Soon Call Terrorists Scholars – Nigerians React
Nigerians have reacted to the denial of the Nigerian Railway Corporation (NRC) concerning the attack on the Kaduna-Abuja train stating that it was "hoodlums" and not "bandits" that attacked the train, with a Twitter user saying that the Buhari-led administration "has given terrorism every name in the book".
AllNews had reported on the attack on an Abuja bound train that was attacked by bandits, a report that was denied by the NRC. .
2. Kaduna: Law Prescribing Castration For Rapists Signed By El-Rufai
The law prescribing surgical castration for rapists in Kaduna has been signed into law by the state Governor, Nasir el-Rufai.
This was disclosed by the spokesman of the governor, Muyiwa Adekeye, on Wednesday, after the law was passed at the Kaduna State House of Assembly. .
3. 'Nigeria Is An Inconvenient Amalgamation' – Adesina
The Special Adviser, Media and Publicity to the president, Femi Adesina, said that Nigeria's division began as far back as 1914, during that country's amalgamation and that the country is an "inconvenient amalgamation."
Adesina stated this on a programme on Channels Television saying that the country had always been divided. .
4. Buhari Approves Establishment Of New Anti-Corruption Agency
New Anti-Graft Agency To Be Called 'Proceeds of Crime Recovery and Management Agency'
President Muhammadu Buhari's administration has approved the establishment of a new anti-corruption agency known as Proceeds of Crime Recovery and Management Agency'. .
5. POLL RESULT: Electorates Tip Obaseki To Win Edo Governorship Election
Ahead of the Edo State Governorship election billed for Saturday, September 19, 2020, Edo electorates have tipped the sitting Governor and candidate of the Peoples Democratic Party (PDP) Godwin Obaseki to win the Governorship election in a recent poll by AllNews.
AllNews had in August set up an online opinion poll targeted at Edo voters that lasted for two weeks.  .
6. #EdoDecides2020: Police To Deploy 3 Officers To Each Polling Booth
The Nigeria Police Force (NPF) has disclosed that the force will deploy three policemen to each of the 2,627 polling booths in the 192 wards of Edo during Saturday's governorship election.
This was contained in a statement issued on Wednesday, September 16, 2020, by the Deputy Inspector-General of Police (DIG) in charge of Research and Planning, Adeleye Oyebade, who also noted that the Force would enforce the withdrawal of police orderlies from all VIPs during the election. .
7. Edo Decides 2020: Edo NLC, TUC Others Takes Sides Ahead of Governorship Election
The Nigeria Labour Congress (NLC), Trade Union Congress (TUC) and the Nigeria Union of Local Government Employees (NULGE) in Edo State have revealed that they will be supporting the reelection of Governor Godwin Obaseki.
Making the stance of the union known, the Chairman, Edo State chapter of the Nigeria Labour Congress, Emmanuel Ademokun, praised Obaseki for prioritizing the welfare and well-being of Edo workers. .
8. BBNaija 2020: You Have Tried It, Nengi Tells Ozo As She Sees Cum Stains On His Bed
Big Brother Naija (BBNaija) housemate Nengi has seemingly accused Ozo of masturbating after she saw cum stains on his bed.
Nengi made the accusation while she visited Ozo's bed and found some stains there. .
9. EXCLUSIVE: 'The Truth' About 'Terrorists' In Kishi, Oyo State, Nigeria – Iba
The Iba of Kisi in Irepo Local Government Area (LGA) of Oyo State, Oba Moshood Oyekola Lawal Arowoduye 11 has said that bandits, and "not terrorists" caused a problem for locals recently.
The Aare Onakakanfo of Yorubaland, Chief Gani Adams, had on Wednesday, claimed that armed terrorists occupied Kishi, a town North-West of Oyo State, and the Old Oyo National Park. .
10. N-Power July Stipend/Transition: 'Nothing To Waste Time For' – Youth 4 Change Network Leader
The CEO Of Youth 4 Change Network (Y4CN), Mustapha Kabir Soron Dinki has told the Federal Government of Nigeria that "there is nothing to waste time for amid N-Power payment of July, backlogs, and transition plan".
Dinki, who was an N-Power beneficiary, via his known Twitter handle on Thursday stated that the exited beneficiaries "need humanitarian support". .