School Reopening: Nigerian Students Expresses Anger, Rage Over ASUU Continuous Strike Action
Select Language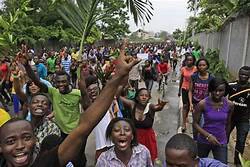 Nigerian university students have given reasons why they are angry with the Academic Staff Union of Universities (ASUU) over its opposition to schools' resumption.
Recall that ASUU had taken an exception to the proposed re-opening after months of shutdown because of the corona virus pandemic, but in reacting, the students described the stance as myopic.
"The government should stop wasting our time", Ewajane Oluwole, a 400level student of Biological Science, FUNAAB told The Eagle correspondent, adding:
"The saga of ASUU strike is beyond pretense, there are things that the government should have made available but due to one thing or the other, they couldn't establish their agreement.
"The government of Nigeria seem really slow in confronting change and they lack trust. This issue has been in existence way back and the Union has been dazzled countless times.
"We students have not been carried along by the Union in the right manner, we suffer the aftermaths of every action between the government and the Union, which is very appalling.
Senami Segbenu Oluwatoyin, a 400 level student of Educational Management at the Lagos State University (LASU) Ojo said the Union and the federal government have wasted her time.
Oluwatoyin stated that she is happy that her school is resuming soon , even though most of her colleagues are not ready to resume this year.
Omoyungbo Samuel, a 500level Crop rotation student in FUNAAB condemned the actions of ASUU, saying it had no interest of the students at heart but its own selfish interest.
"ASUU is our major problem in the education sector, as no amount of resources would be enough to settle them. They continue to ask for funds, whereas the ones available are not properly utilised.
"Even if they are going on strike, it should not be in a time like this where students have stayed at home for several months, they are now using us as a bait to get what they want.
"If the Educational sector of this country will be better, I think those guys called ASUU should be scrapped from the educational sector.
"If some private universities have the facilities ASUU have, they would have produced more universities. After the Union collects this money from the federal government, higher percentage of it goes to the Union pocket and not the students.
"They are just fighting for their pocket, not the student. Meanwhile, im not ready to resume", Samuel said.
On contrary, Abel Kehinde, a 200 level student of Accounting at the University of Ilorin (Unilorin) appealed to the Federal Government to sort out the Union so that he could return to school.
Kehinde opined that students in their final year should be promoted, so that they could move on with their lives.
He however, urged the Federal government to release funds to tertiary institutions, so as to put in place all the necessaries to prevent the spread of COVID-19 in all schools.
"If online classes can be feasible for Federal Universities, they should start it and everyone will converge physically for exams, I am tired of staying at home", Kehinde stressed.
Emmanuel Ezekiel O., a student of Management and Accounting in Obafemi Awolowo University penned his thought this way;
"Due to the fact that the student are in haste to resume school but we shouldn't forget that ASUU comprises of people who are demanding for their rights.
"The truth is that the government should kindly meet the needs of the Union because if they don't and school resumes, the union will put on another protest that will lead to another strike, which will affect everyone.
"So, it is better for the government to please give ears to ASUU and this delay should be halted or else student should be preparing for an upcoming strike', he said.
The Eagle reports that ASUU National President, Prof. Biodun Ogunyemi, had justified the union's decision to go on strike last March over what he described as government's insensitivity to university education.
Prof Ogunyemi explained that ASUU had signed MoU with the Federal Government on the need to improve facilities on the campuses, students' welfare, promotion and welfare, which were ignored.
In fact, the opinion of the public is needed in this matter, because this is an issue of national importance.