Hottest Newspaper Headlines for Thursday, Sept 24
Select Language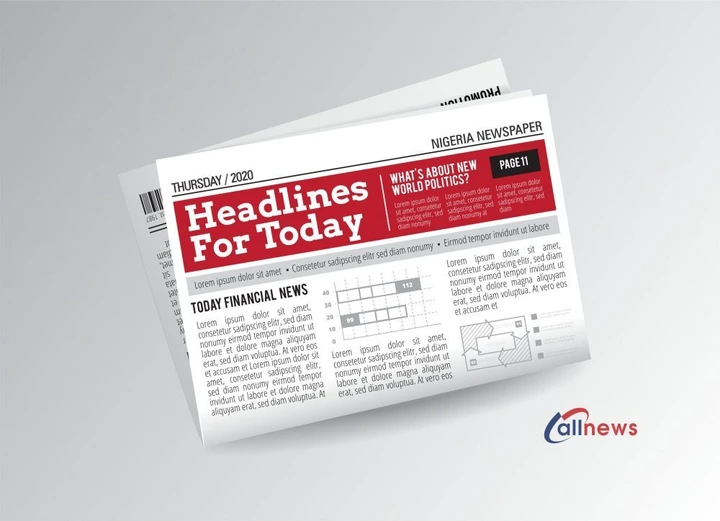 1. CAMA: 'What Are You Hiding?' – Guru Maharaj Ji To CAN, Oyedepo, Primate Ayodele, Others (EXCLUSIVE)
The self-acclaimed living perfect master, Guru Maharaj Ji says pastors should be accountable, as the Nigerian spiritual leader urges religious figures to embrace the Companies and Allied Matters Act (CAMA).
Guru Maharaj Ji disclosed this in an exclusive interview with allnews.ng at Mahaj Ji village along Lagos/Ibadan expressway in respect of the controversial CAMA 2020. .
2. Sanusi Berates Buhari Government For 'Misusing Project Loans'
The former governor of the Central Bank of Nigeria (CBN), Muhammadu Sanusi, has berated the Federal Government for always obtaining loans only for projects without considering the general economic benefit. Sanusi said the government needs to review the usage of the loans.
Sanusi said projects are to be tied to each other for better utilisation that will boost the economy. He said projects shouldn't be built to satisfy some people, leading to the creation of Airport in one state, train in another without considering to link them for economic gains. .
3. Buhari Calls On UN To Support Fight Against Terrorism
As Nigeria continues to battle with terrorism, especially in the north, President Muhammadu Buhari has called on the United Nations to support the country's fight using its counter-terrorism unit.
Buhari implored the intergovernmental organisation at the 75th Session of the United Nations General Assembly – held virtually. .
4. N-Power July Stipend: Over 9 Bn Naira Held Up By Buhari's Minister
Beneficiaries of the Nigerian Government's N-Power scheme are swooping on Sadiya Farouq, the Minister of Humanitarian Affairs, Disaster Management and Social Development of Nigeria, as they still have outstanding stipends.
Farouq had disclosed recently that the reason some N-Power beneficiaries are yet to get their pay is that "the office of the Accountant-General is the last authority responsible for the release of their stipends". .
5. #ENDSARS: Pro-Biafra Leader, Nnamdi Kanu Of IPOB Tackles Dreaded Controversial Unit Of Nigeria Police Force
As Nigerians by means of the #EndSARS hashtag continue to create awareness on police brutality such as extortion, rape, physical and verbal assault, extrajudicial killings, wanton arrests, and other forms of intimidation tactics against young innocent citizens, Biafra political activist, Nnamdi Kanu has warned that "the hour of consequences for all perpetrators is at hand".
Self-exiled Kanu's Indigenous People of Biafra (IPOB), an outlawed group, is canvassing for the secession and sovereignty of Eastern Nigeria. .
6. Independence Day: IPOB Issues Salient Directive To Members As Regards October 1, 2020
Ahead of the Independence day celebration, the outlawed Indigenous People of Biafra, (IPOB),  has called on members to sit at home.
IPOB said the sit-at-home order was aimed at expressing displeasure over the bad governance being experienced in Nigeria. .
7. Felele: Many Fear Dead In Petrol Tanker Explosion In Kogi (Graphic)
Not less than 25 persons were burnt to death in a petrol tanker explosion that happened in the Felele area of Kogi state on Wednesday, September 23, 2020.
AllNews gathered that the incident occurred at about 8:00 am when a tanker lost control and rammed into oncoming vehicles. .
8. How NNPC's Failure To Obey DPR Guidelines Killed 23 People In Abule Ado Explosion
The Nigerian National Petroleum Corporation (NNPC) has been accused of covering up reasons for the explosion that killed 23 people at Soba, Abule Ado on March 15, 2020. NNPC's failure to operate according to its guidelines led to the explosion.
When the explosion occurred seven months ago, NNPC shifted blame from itself as it has done for every pipeline explosions that occurred in Lagos. Before the Soba explosion, three other explosions had occurred on the same pipeline in areas close to Soba. .
9. My Re-Election An Evidence Of PDP's Dominance In Niger Delta Region – Obaseki
Edo State Governor, Godwin Obaseki has said that his re-election as the Governor of Edo state is an indication that the Peoples Democratic Party (PDP) is a strong force in the South Southern region.
Obaseki who said this during a visit to Douye Diri, the Governor of Bayelsa state also pointed out that his victory had brought all the states in the region under one political party. .
10. Ondo Decides 2020: Agboola Accuses Akeredolu of Attacking His Campaign Office
Ondo State Deputy Governor and candidate of Zenit Labour Party (ZLP) at the forthcoming governorship election in Ondo state Ajayi Agboola has accused Rotimi Akeredolu of attacking his supporters and ZLP party members at the party's secretariat in various parts of the state.
Making this allegation in a statement by the Director-General of his Campaign Organisation, Kola Ademujimi, on Wednesday,  Ajayi said that lots of properties were damaged during the thugs' attack. .