ANALYSIS: Lycoon BBNaija Victory: The Cash, The Gifts, The Endorsements
Select Language
After the winner of the Big Brother Naija lockdown for 2020 is declared, he or she is expected to be given a total big prize of 85 million naira. You may be thinking that the prize will be given in cash, well, you are not mistaken though, but some of the money will be given in cash, while some will be diverted to many other physical prizes.
Since Laycon has been declared winner, he now owns the 85 million naira, but the prize will not be given to him all in cash.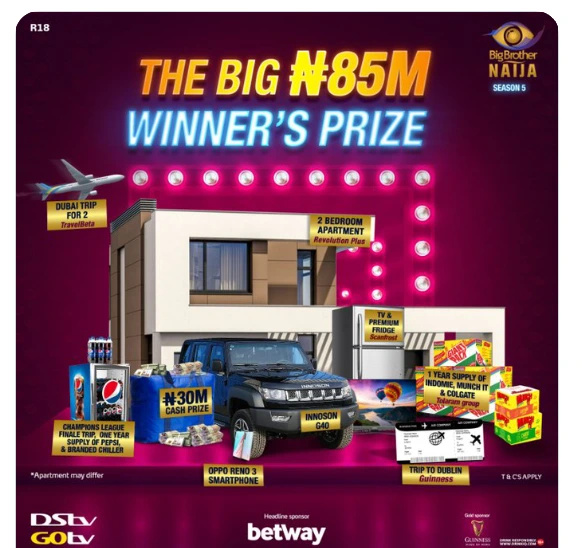 In this article, I will show you how the prize will be given to the winner. Look very well at the image above. Now let's dilute it in case you are confused.
1. The winner will be given a cash prize of 30 million naira only.
2. 2 travels to Dubai trip.
3. An innoson car.
4. 3 Oppo Reno smartphone.
5. A 2 bedroom apartment reservation plan.
6. One year supply of Indomie, Munch-it and Chocolate.
7. Trip to championship league for free, one year supply of Pepsi and so on.
8. TV and Premium Fridge Scanfrost.
9. Trip to Dublin. Etc.
All these prizes are what Biggie and the sponsors of Big Brother Naija lockdown 2020 will give to the winner.