UPDATE: NLC Announces Showdown With Private Sector Workers Planning to Boycott Strike
Select Language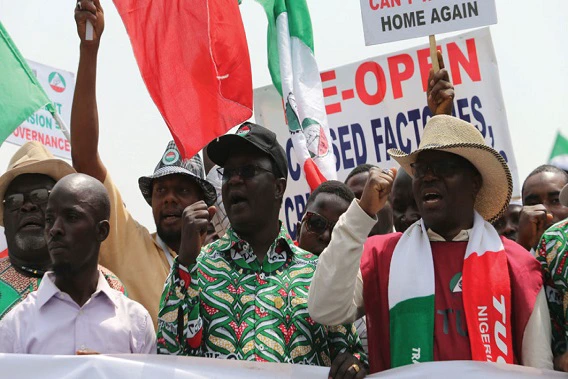 The Organised Private Sector Union Forum of Nigeria Labour Congress (NLC) in Rivers State, on Sunday, September 27, issued a threat regarding sanctions on any private worker who snubs the imminent strike action, scheduled on Monday.
This notice by NLC is against the backdrop of the increase in fuel and electricity tariffs.
The group said it would set up a monitoring committee to monitor compliance across the state.
This was contained in a statement issued by the Chairman, Organised Private Sector Union Forum, Temple Morford.
Morford said the policies of the Federal Government were putting undue hardship on the workers of Nigeria, hence must be rejected.
He said, "I hereby call on all workers of the private sector to join the strike action, they should make sure that there is total shutdown; both land, air and sea, there should be no operations.
"The filling stations, transportation workers and all others should shut down under the private sector unions because Nigerians are being victimised and we cannot continue to be in our own country and be suffering while people from other countries that we give electricity supply enjoy 24 hours supply."
Morford, said the workers would downtools until the government reverts the fuel price to N120 per litre.
He added that it was saddening to know that foreign countries Nigeria supply electricity for huge fees were enjoying 24 hours of electricity supply while Nigeria was still in darkness.