Just In: UNIBEN Announces October 24th As Resumption Date
Select Language
As federal government gives go ahead for school reopening, various schools have already fixed their dates for resumption and some have already resumed.
University of Benin, Benin city has also announced its resumption date and has already put up a calender for their activities.
The resumption date is 24th October, 2020. Students are to come into campus on this said date to begin the 2019/2020 academic session and resume learning on 26th of October, 2020.
See the new school calender below.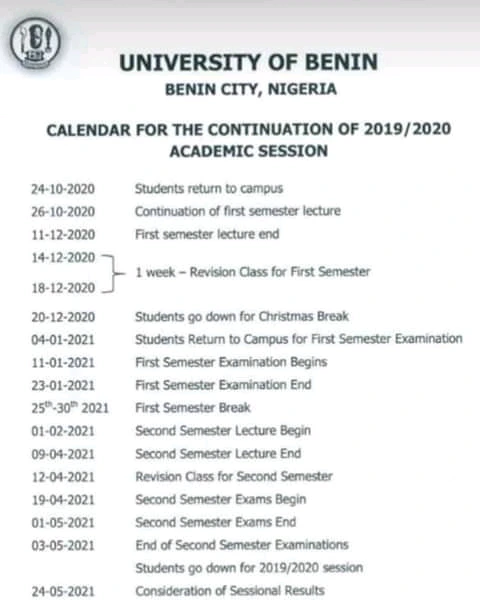 If you recall, uniben did not have time to actually start the 2019/2020 academic session properly before the corona virus pandemic struck, which eventually lead to the lockdown that have lasted for more than 5 months.
So far, the university of Benin and Edo University Iyamo are the only tertiary institutions in Edo state that have made significant moves to resume academic activities. Ambrose Alli University, Auchi polytechnic, etc have yet to announce any date for resumption yet, whether stipulations or fixed dates.
Like ,share, follow this page for back to back updates by clicking the top right corner of your screen.