Extracts From Nnamdi Kanu Wednesday, Sept 30 Broadcast
Select Language
DISCLAIMER: wordings are That of the original owner (NOT NGSTUDENTS.COM)
An opening prayer by Mazi Nnamdi Kanu.
We must preach this gospel with gratitude, Chineke onye puru ihe nile.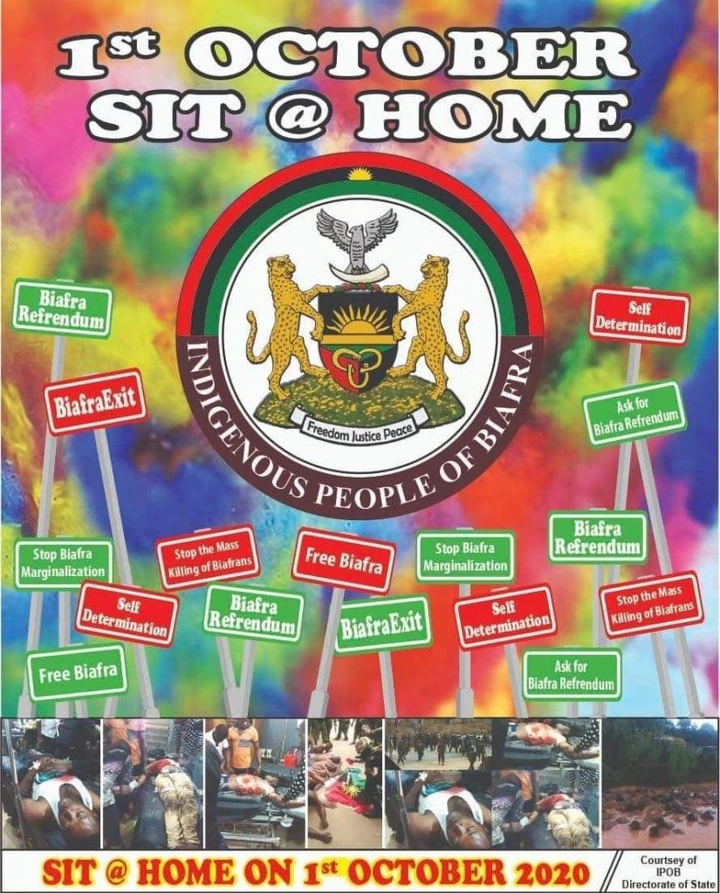 Queen Elizabeth the second has sent her message to the ZOO, those who created the ZOO has spoken.
Those who cannot reason still call that fool Hope Uzodima a Governor, did you vote for him? If you ever call that fool a Governor on my page I will block you.
Hope Uzodima wants to show that he is a Fulani slave, that is why he is doing show off force in Owerri. We are coming for you and I am saying that live on air.
You and Dave Umahi think you can come in our land and give our land to the Fulani, come and try it and see what will happen to you.
Let Hope Uzodima pray that nothing happen to any Biafran in Owerri tomorrow and see what we will do to you, Owerri will burn.
The Queen is sending you this congratulatory message because her family creates you, you are nothing.
The same queen that wrote a condolence message when Buhari died in London, the same queen is sending a congratulatory message to you because you are all animals.
The British is congratulating the ZOO because they are taking your oil and gas, and they want impoverish everybody in the ZOO.
Britain created the fraud called Nigeria, that is why Umaru Diko a Fulani man stole 4 million dollars and ran to London.
Did America not have a revolution? Did America not fought war to end slavery?
There was scrambling for Africa, to colonize us for bunch of idiots we are.
let us be honest about it.
When an idiot come to you to brag we are the giant of Africa, Britian made it so, because they created you in order to have an edge over France.
I have told them to come and challenge me both their Professor, if you can last 2 minutes with me I will abandon Biafra agitation.
You are a Yoruba man you are an intellectual and your flesh and blood are in Benin, and you are more concerned with an idiot JANJAWEED you don't know where they come from.
The only industry the MORONIC Fulani have is rearing cattle from one place to another.
I want Dave Umahi, Okezie Ikpeazu and the Administrator from Imo state that Fulani cannot take our land.
I am telling Fulani tonight, any army that come to our land to take our land will die, I am telling you this tonight.
Hope Uzodima if anything happens to any IPOB member in Owerri, I will deal with you and set example with you.
They appointed 8 Chief Judges and no single person from igboland is there. I want to ask our people where did you people acquired this STUPIDITY and foolishness?
What Ojukwu saw Zik did not see, Zik was busy speaking grammar, they gave him one Amina from Guzo today my leader has been vindicated.
I want people to appreciate how foolish the brain of a black man is.
Now that the Oduduwa and the Middle Belt has discovered their identity we welcome it, and that is the work of IPOB.
All this people serving the Fulani interest listen to this, that Nigeria is divided today is no longer a new thing because the people of the South Eastern nigeria are fighting for their self Determination away from nigeria for an independence state.
When I go to heaven, of course I am going to heaven, the first thing I will ask God is how did you create the brain of a black man.
African people are foolish, that is why African people are poor, am given it to you raw.
I never expected this magnitude from our Yoruba brothers, for them to tell me that we are their inspiration.
Bisi Akonde says let's remain one Nigeria and I want to ask Bisi one question I use to ask a foolish person. Did you create Nigeria? Why is what a white man created more important than your history and culture?
I want to ask Bisi Akonde, do you know there is a fraud going on in Abuja?
One of our Coordinator has been arrested and taken to Uyo for interrogation, and he has done nothing.
I am warning the Fulani that this war they have started will last for a long time, because Hausa will soon take over Sokoto.
If Aisha Buhari will go and file a case against me in a court in Europe, that mere fact of her filing that case I will resign as the leader of IPOB.
I want to remind Akonde what his so called founding fathers said.
On that note have come to the end of tonight's programme and I thank you all for listening and with all the love in my heart is Goodevening.
Compiled by
Mazi IKECHUKWU ONUOHA (J.P)
Edited by
Nwada Emmanuel Chisom (Ada Biafra)