Just In: Asari Dokubo Meets Uwazuruike in Owerri, Plots Niger Delta Republic
Select Language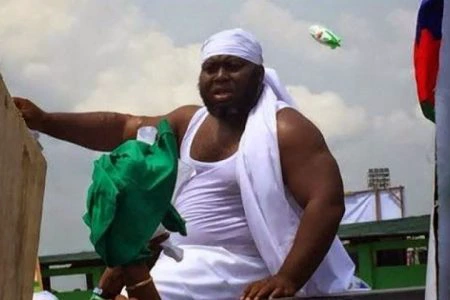 The leader and founder of Movement for the Actualisation of Sovereign State of Biafra, MASSOB, otherwise called Biafra Independence Movement (BIM), Chief Ralph Uwazuruike, Wednesday, played host to the leaders of South South geo political zone, led by the leader of Biafra National Council (BNC), Alhaji Mujaheed Asari Dokubo, affirming that each of the six geo-political zones must be independent.
Uwazuruike, in a statement made available to newsmen by his Special Assistant on Social Media Matters, Comrade Emma Nnadi, said that every tribe must be respected, as no one is master of another.
According to Uwazuruike, "If we must work together, it must be by agreement and consensus, where everybody must respect the other. Between 1967-1970, the entire Eastern region was one, that is Biafra. Now, things have changed, we have to respect each other, the component parts of each other, and whoever that is talking must know what he talks," he said.
The protagonist of Biafra struggle, warned those who want to frustrate the struggle to desist, stressing that "Ijaw must be respected, likewise Ibibio, Anang, Edo and the Entire South South geopolitical zone.
"We will not say that Ijaw is Igbo, Edo is Igbo, this is Igbo, that is Igbo. It is not true, Ijaw is Ijaw, Edo is Edo, Itshekiri is Itshekiri," he noted.
Uwazuruike noted that South West, South South and North Central are the pillars of Nigeria; stressing that any day any of them rises, Nigeria will seize to exist.
He described his visitor, Asari Dokubo as a fearless and courageous worrior, adding that they were together to finish what they started.
Earlier in his speech, the leader of Biafra National Council (BNC), Asari Dokubo, stated that Uwazuruike, who he described as his senior brother, had always made him humble as he described himself to be an Ijaw and Igbo man, as he claimed that his ancestors were from Igbo extraction.
Asari Dokubo, who said that he believed in Niger Delta/Biafra alliance, stressed that "Ndigbo could not win it alone, Ijaw cannot win it alone, Efik cannot win it alone, Ibibio cannot win it alone, Anang cannot win it alone. It will be collective of strength that our enemies will be crushed.
Asari Dokubo continued: "Let us not be distracted by anybody. Anybody, who does not want us to come together is not in the Biafra struggle. Anybody who insults Biafrans, insults part of the Biafran struggle.
"We are moving on to freedom, and there is nothing that is going to stop us. It is very close. We shall hold hands; they will beg us to be free. They brought Boko Haram, they brought their herdsmen, they brought RUGA, they brought water resource act. All the evils in this world, they manufacture it. But they are not going to stop us from this great mass liberation. We are not going to make the mistakes of our fathers made," Dokubo assured.
"They told us Goodluck was not good  for leadership, and they removed Goodluck. Are they better than us? "My brothers and sisters, to achieve Biafra, we need our collective strength," he said.