Anambra Takes Fire Fighting Sensitization to Schools, Markets
Select Language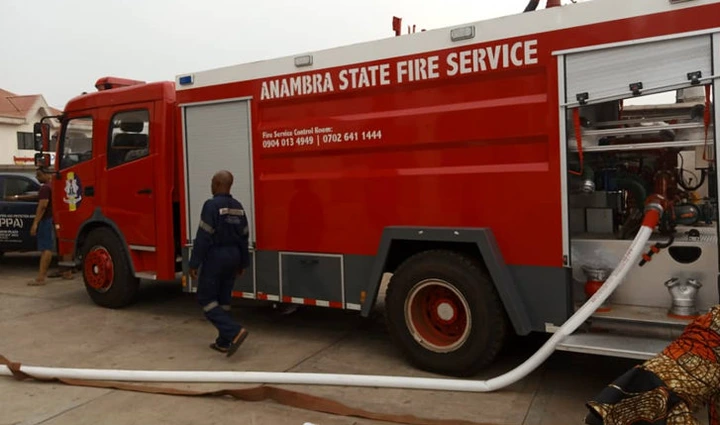 Awka – The Anambra State Fire Service says it has commenced fire risk assessments in the state to herald the dry season when the likelihood of fire outbreaks was mostly on the increase.
Chief Fire Officer of the State Fire Service, Engineer Martin Onyedikachukwu Agbil, said fire risks assessments is the process of ensuring that all fire safety measures were in place to avert unforeseen contingencies.
Agbili who gave precautionary measures against fire incidents while speaking with our correspondent in Awka, said risk assessments were done through fire inspections and sensitisation.
He said that the exercise which is expected to last till December and beyond is expected to make Anambra free from fire disasters, adding that there is a high level of compliance as people allowed fire fighters access into their domains to conduct fire risks assessments.
The Fire Chief noted that the risks assessments was an avenue to help citizens secure and protect their property and other belongings. Although he was cognisant that fire outbreaks were increasing in the state because of industrialisation but stressed that there seemed to be more fire consciousness amongst the citizens due to the massive sensitization and public education on fire safety.
According to him, the fire department has ensured that every building plan has fire safety designs which he said entails the installation of fire safety gadgets in the structure under construction.
He also recalled that the massive Onitsha inferno of last year that destroyed properties and also claimed lives generated phobia amongst the people but according to him, the fire agency's sensitization programmes have helped to allay fears and increased consciousness for safety precautions because the citizens wouldn't want a repeat of the catastrophic episode of the Onitsha fire disaster of 2019.
Cognisant of the fact that fire incidents would always occur,he was confident that people were more enlightened now about safety precautions to averting infernos.
He said the agency would take fire safety education to schools across the state where it would educate teachers and pupils on how to avoid igniting fire outbreaks and how to safeguard themselves in the event of such incidents.
Agbili further explained that the governor has taken some measures through the ministry of public utilities to embark on installation of overhead tanks, hydrants and hoserels in some markets since last year as part of its strategies to enthrone fire safety management in markets.
The fire agency boss revealed that Onitsha main market, Oshanja market Onitsha, building materials International market Ogidi, International shoe martket Nkweleezunaka and some other markets now have fire safety gadgets for fire fighting and prevention, noting that government would not relent in its resolve to safeguard the lives and properties of the citizens from fire disasters.