FACT CHECK: Has Internet Fraud Reduced Crime Rate in Lagos, Other Nigerian Cities
Select Language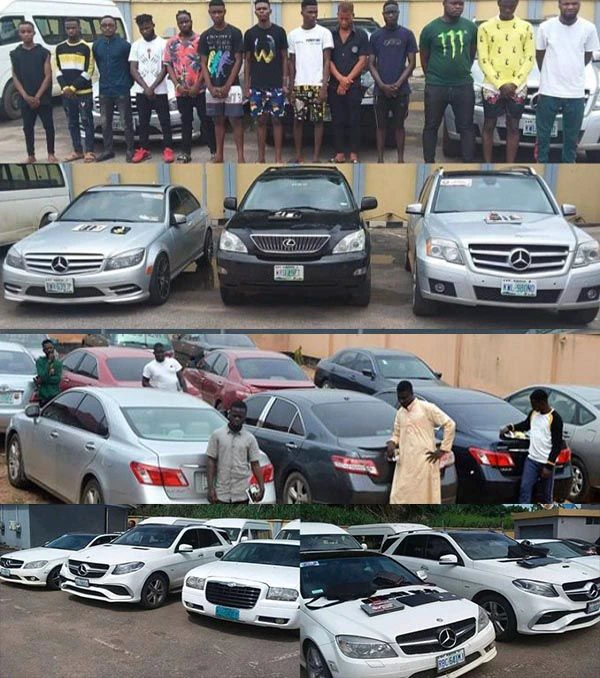 According to NigerianDefender Publication :
"The popularity of advanced free fraud popularly called Yahoo Yahoo has led to a decrease in the rate of crime in Lagos State, NIGERIA DEFENDER has learnt.
Yahoo Yahoo is a social vice now popular among youths who are determined to be wealthy at any cost without going through the proper channel of hard work.
In their desperation for quick wealth, most youths involved had taken to diabolic means like consulting with witch-doctors who make concoctions that would enable them to swindle their victims.
It's common knowledge that some youths eat faeces of people in public places, using humans for rituals as part of their effort to acquire powers to defraud their victims.
However, noticeable is the fact that the crime rate has reduced since Yahoo Yahoo became a very popular vice among youths in Lagos State.
Youths now prefer to stay online devising very fraudulent means in a bid to get wealthy than take up arms in armed robbery as was the norm in time past.
These were the words of a very senior police officer from a police division in Ikeja area of Lagos State.
The officer who wished not to be mentioned, said it's better that youths have now dropped their arms while taking up Yahoo Yahoo vice.
He said: "The advent of Yahoo Yahoo in Lagos has reduced crime in this state. Boys have now dropped their guns while taking up the Yahoo Yahoo vice.
"It's good for we the police officers because to some extent we are now safe as our lives are no longer in much danger.
"The lives of police officers are no longer in danger as we no longer pursue thieves up and down any more.
"The amour I signed for upon my transfer here over months ago have not been exhausted because the need to use them hardly arises, this is good for us our lives are safe. I am not in support of internet fraud though"
Another officer from a police formation in Oshodi area corroborated the remark that Yahoo Yahoo has helped in reducing the rate of crime, especially in the area.
Warning against being mentioned, the Corporal said Oshodi was previously notorious for all forms of criminal activities but has the tide has changed lately due to the popularity of Yahoo Yahoo.
"Oshodi used to be a place notorious for all forms of criminal activities and social vice, but you can see now that the place is very calm.
"The reason for this is Yahoo Yahoo; boys now prefer to scam their foreign "maga" than use guns to rob. armed robbery has reduced and this is good for police officers as we now have less stress.
"Majorly in the area now, we just try to ensure things are civil unlike before when we are always chasing thieves here and there.
"Thanks to people like Aja-four, also known as Hushpuppi and his guys, Yahoo Yahoo is now very popular among youths in Lagos and it's a very open thing."
When asked about the harassment of SARS officers, the officer said: "Most of those harassed may not have 'seen' men at the station and when you don't do that they will come after you.
"Sometimes these SARS officers just harass innocent citizens, the real Yahoo boys it's hard to get them because the settle out those at the top and they are free."
"90 percent of youths in this Lagos are into Yahoo Yahoo and they don't hide it, boys must survive and this country is making things hard for people to succeed legitimately."
But this view is not without criticism, let's hear from you, what do you think??, has Yahoo Yahoo really reduced crime rate in our cities??