Hottest Newspaper Headlines for Friday, Oct 2
Select Language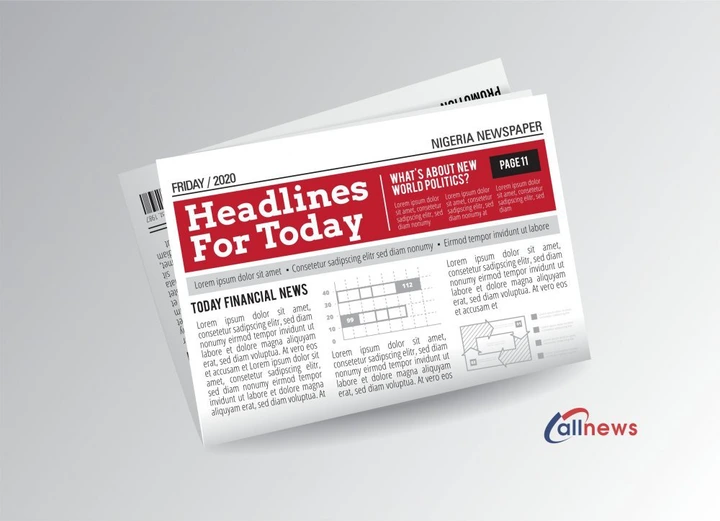 Good morning, here's a curation of the top 10 stories for today, Friday, October 2, 2020, from the stable of AllNews.
1. Access Bank To Acquire Majority Stake In Grobank Limited.
Access Bank has announced that it will acquire a majority stake in the lender, Grobank Limited after entering into a definitive agreement with GroCapital Holdings. The planned acquisition comes amidst a series of acquisitions made by Access Bank to expand its operation across Nigeria.
In a statement obtained by AllNews, Access Bank will purchase majority shares in Grobank Limited in two tranches. It was gathered that the first payment will see Access Bank take 49% of Grobank Limited's shares before the second payment will make the Nigerian lender the highest shareholder in Grobank.
2. UEFA: Fans Will be Allowed Partially In Stadium Ahead Of UEFA Nations League
The European Football body (UEFA) will allow the partial return of spectators for UEFA matches where local laws permit, starting from the upcoming UEFA Nations League games on October 10 after the successful pilot match that was held at the UEFA Super Cup in Budapest on 24 September.
NGstudents reports that the UEFA Body will only allow supporters of the home teams as away supporters will not be allowed at venues until further notice.
3. Nigeria @ 60: How Nigerian Celebrities Are Marking Independence Day
As Nigeria marks her 60 years independence from Britain on October 1st, some Nigerian celebrities have shown their patriotic sides through their looks on the said date.
The celebrities in commemoration of the independence day have dressed gorgeously in the colours of the Nigerian flag which are white and green.
4. TikTok Must Be US-Based – Trump's Administration Says
TikTok must become a "US-based company controlled by US investors" or will be banned in the United States, Treasury Secretary Steven Mnuchin said Wednesday.
Mnuchin's comments come amid uncertainty over a US-brokered deal to reorganize ownership of the popular Chinese-owned video-sharing app which US officials have called a national security risk.
5. Nigeria At 60: It Is Shameful Buhari Lectured Us On Why We Had To Pay For More Fuel – southern, Middle Belt Forum
The speech of President Muhammadu Buhari marking the country's 60th Independence anniversary has received a backlash from the Southern and Middle Belt Leaders Forum (SMBLF) who say that it was "shameful" that Buhari explained reasons why the citizenry needed to pay more for fuel.
The group further described the speech as a "tale full of sound and fury signifying nothing"
6. 2023 Election: Former Lagos Commissioner Dumps APC, Seeks To Unseat Sanwo-Olu in 2023
A former Lagos Commissioner for Home Affairs, Abdulhakeem Abul-Lateef, has left the camp of the All Progressives Congress (APC) ahead of the state's governorship election in 2023.
Tendering his resignation from the party, Abul-Lateef – who thanked Bola Tinubu one of the party's national leaders and did not expressly state his next move – said that his decision to leave was to avoid disunity in the party.
7. Nigeria At 60: Oil Cannot Be Cheaper In Nigeria Than Saudi Arabia – Buhari
President Muhammadu Buhari said that oil prices in Nigeria cannot be cheaper than in Saudi Arabia.
The president said this in his speech at the Aso Villa, marking the country's 60th Independence anniversary. He said, "Our government is grappling with the dual challenge of saving lives and livelihoods in face of drastically reduced resources
8. Independence Day: Previous Administration Presided Over The Near Destruction Of Nigeria-Buhari
President Muhammadu Buhari has during his Independence Day message to Nigerians stated that previous administrations presided over the near destruction of Nigeria.
Buhari who was giving an account of how well his administration has fared despite the challenges it is being faced with said that no past government from 1999 to 2015 was able to achieve what his administration has achieved with such scarce resources.
9. MTN Nigeria, Seplat Directors, Employees, Others Barred From Trading Company Stocks
Directors, employees have been banned from dealing or trading on MTN Nigeria and Seplat stocks. The two companies barred their management and workers from trading their stocks in line with the Nigerian Stock Exchange (NSE) listing rules, this was gathered from a statement seen by AllNews.
The NSE directs companies to bar their employees and top directors from dealing in their shares when a company is set to submit or in the process of publishing their financial statement. The rule is expected to prevent the employees and company management from trading base on insider information.
10. UEFA: Chelsea Legend, Didier Drogba Wins UEFA President Award, Draws Held In Nyon
Chelsea Legend, Didier Drogba has been announced as the winner of the UEFA President Award at the ceremony of the UEFA body on October 1, 2020, after which the draw will be held in Nyon, Switzerland.
The former Chelsea and Ivory Coast forward has been hailed by UEFA President, Aleksander Ceferin as a "leader and pioneer" and for his "commitment to excellence on and off the pitch."
And that rounds it up for today's top 10 Nigerian newspaper headlines this morning. You can find more Nigerian newspaper headlines on ngstudents.com