Hottest Newspaper Headlines for Saturday, Oct 3
Select Language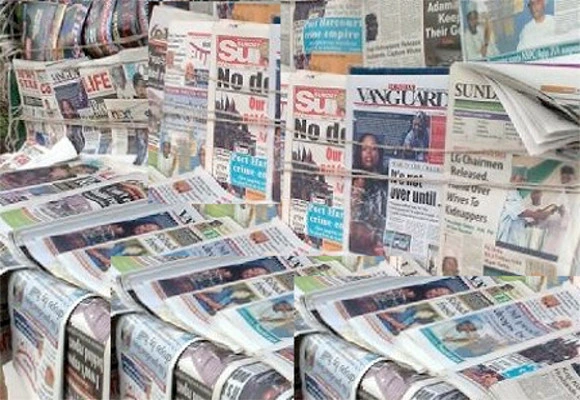 Latest News in Nigeria Today Saturday 3rd October 2020
These are the Latest News in Nigeria Today on Saturday 3rd October 2020 .
It's silly to say military created Nigeria's problems — IBB
Former Military President of Nigeria, Gen Ibrahim Babangida(retd), IBB, has said it was silly to say the military created the country's problems, as civilians were the ones running the institutions.
Vanguard News.
I felt petrified when I emerged Head of State — Gowon
A former Head of State, Gen. Yakubu Gowon (retired), on Friday said he was petrified when he emerged Nigeria's Head of State at age 31.
Vanguard News.
AUDIO: Kukah to Buhari: Nigeria literally pool of blood, reset the clock before it is too late
Sunny Nwafor The Catholic Bishop of Sokoto Diocese, Matthew Hassan Kukah, has advised President Muhammadu Buhari to look inward into Nigeria's problem and find a lasting solution to it. This is just as he called on the President to reset the clock before it is too late, adding that "Nigeria is literally a pool ofRead More
Vanguard News.
VIDEO: I begged her to wake up but she didn't respond — Mother of 11yr-old-girl raped to death laments
An 11-year old girl, Favour Okechukwu, was gang-raped to death in Ejigbo area of Lagos with the perpetrators on the run.
Vanguard News.
BBNaija 2020: I played by the rules, Ozo reveals why he ignored Nengi at Saturday party
Evicted Big Brother Naija housemate, Ozo has revealed why he ignored his love interest, Nengi during the last Saturday night party in the house. Ozo during his media rounds said all housemates were instructed not to go close or gesticulate to the finalist. This, he said, was to avoid hinting who would emerge winner ofRead More
Vanguard News.
BBNaija 2020: I support Kiddrica ship, Kiddwaya's mom says as she meets Erica, fans VIDEO
Susan Waya, mother of Big Brother Naija lockdown ex-housemate, Kiddwaya, set social media agog on Friday night when she stormed Erica's meet-and-greet with her fans. The fans who gathered to meet and greet Erica were surprised to see the billionaire's wife. Erica, one of the 20 housemates that were admitted into the lockdown house wasRead More
Vanguard News.
More than 19,000 Amazon staff have tested positive for COVID-19
More than 19,000 Amazon employees have caught the coronavirus since March, the company said as it revealed the first comprehensive count of infections among its workers. The e-commerce titan identified 19,816 Amazon and Whole Foods staffers who tested positive for COVID-19 or were presumed to have the bug from March 1 to Sept. 19, AmazonRead More
Vanguard News.
Maritime security: Nigerian Navy in five years
By Evelyn Usman When he assumed office as the 22nd Chief of the Naval Staff in 2015, with a charge to team up with his contemporaries in the Nigerian Army and the  Nigerian Airforce, as well as other stakeholders in the security corridor,  to address the worrisome dimension insecurity had assumed in the country, theRead More
Vanguard News.
Alleged sexual molestation of five months old baby: My side of the story — Kafaru
…Raises alarm over alleged attempt by in-laws to rip him off By Evelyn Usman Queens Park Event Centre, in Victoria Island area of Lagos, was filled to capacity on August 31, 2019, with guests adorned in burgundy, blush pink and gold colours, which added glamour to the soothing ambience. Nigerians and non-Nigerians from all walksRead More
Vanguard News.
Trump to be moved to military hospital after COVID-19 diagnosis
U.S. President Donald Trump is moving to a military hospital for treatment after being diagnosed with COVID-19, the White House said on Friday, as his administration and election campaign scrambled to adjust to an extraordinary twist in his turbulent presidency. Trump, 74, will be moved to a special suite at Walter Reed National Military MedicalRead More
Vanguard News.