SENSATIONAL: Dino Melaye Acquires 460m Naira Worth Lamborghini
Select Language
Dino Melaye's love for cars is not going down anytime soon as the 46-year-old has got a brand new Lamborghini Aventador Roadster delivered to him.
According to popular Nigerian Blogger Tunde Ednut, the new whip is worth $1million, over 460 million in Nigerian currency.
Dino Melaye, who was a member of the 8th National Assembly, representing Kogi West Senatorial district, has a soft spot for cars and despite criticism from some Nigerians, it appears the popular politician won't stop adding to his fleet of exotic cars.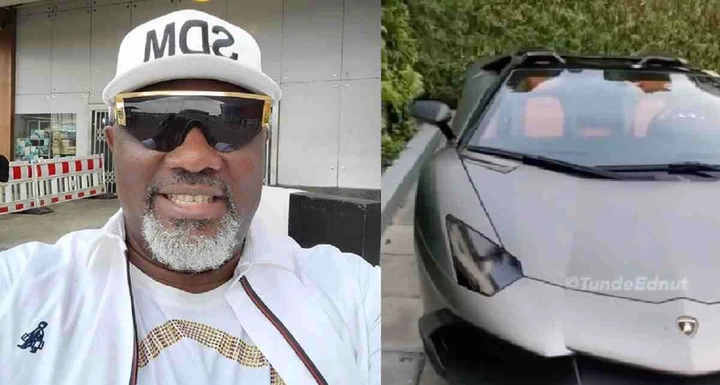 Dino Melaye (Image: Instagram/dinomelaye)
In February, he was blasted by rapper Speed Darlington who questioned his source of income, claiming the former Senator didn't have the financial muscle to equip his car park with such a variety of automobiles.
Defending himself, Dino Melaye said "everyone spends his or her [money] on what he or she likes.
"My passion is to collect automobiles. Occults can buy blood for any amount. Homosexuals spend so much on same-sex; some on babalawos [traditional priests]; some hide their money in Switzerland while some bury ego [money] and some spend on cocaine. I am happy. I no even know say you dey vex. Kuro loan," he said back then.
The news of Melaye's Lamborghini is coming after popular musician Davido also got himself one.
Meanwhile, watch the senator's new whip and a few reactions below.
A user said on Instagram: Imagine an ex US senator behaving like a kid ?
For crying out loud Dino is a public figure , a politician and not a celebrity.
We can admire Davido and co doing stuffs like this to remain relevant and not someone that has been entrusted with constituency development fees and the constituency's have nothing to show for it !!
No matter how you believe in Dino , his style and attitude of showing off is so wrong ,tomorrow same person would wanna contest for political office.