Some Muslims Furious Over Rabidu's Daughter 'Inappropriate' Dressing
Select Language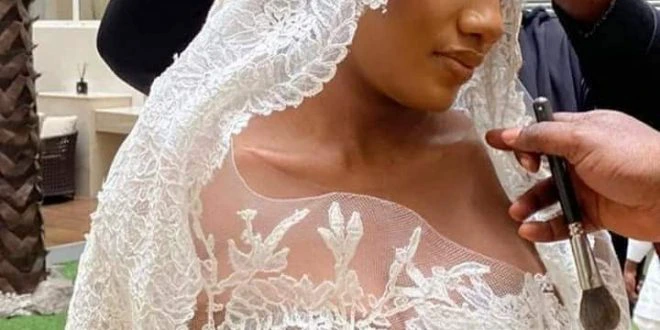 Several Nigerians, particularly adherents of the Islamic faith, have taken to social media to lambast Nuhu Ribadu, the pioneer chairman of the Economic and Financial Crimes Commission (EFCC), over the wedding dress of his daughter, Fatima.
Fatima got married to her husband on Saturday in an event which was attended by top political figures, including Atiku Abubakar, a former vice president; Bola Tinubu, National Leader of the All Progressives Congress (APC); Mai Bala Buni, APC Caretaker Chairman and Governor of Yobe State; and Bisi Akande, a former APC interim chairman.
However, the talking point of the wedding was the cloth that the bride wore, which, from pictures taken at the event, showed from her neck to shoulder exposed and only covered half-way by a veil she adorned.
While congratulating Ribadu on the occasion, a good number of Muslims criticised him on Twitter for allowing his daughter to wear such wedding dress, describing it as "inappropriate".
Majority of the commentators claimed that the manner of dressing of the bride was against the teaching of Islam.
See the comments by Twitter users on the wedding dress of Ribadu's daughter below:
Malam please can you justify this dress that she wore today Islamically? pic.twitter.com/VJjzlrgHpv

— THE ALPHA 〽👑 (@sadeeqisah8) October 3, 2020
Really emotional. But sir I was personally caught by surprise those improper attire she earlier wore. Sir may I remind you that death and judgment of Allah is certain. Let seek for Allah's forgiveness and we must be conscious of our act.

— Comrade Makeri Kuta (@MakeriKuta) October 3, 2020
Congratulations for the effort.Please for subsequent weddings take great care in the manner of dressing of the bride.
That dress was so exposing.Congratulations once more

— Engr.S.Ibrahim (@danyarosule) October 3, 2020
With due respect sir, you Dropped her almost naked and this dress is against the teaching of islam pic.twitter.com/3bY2EW6RXx

— Sanusi Ahmed Dawi €€ (@SanusiAhmed1) October 3, 2020
Is good you gave her out in marriage, but the dress for the wedding should be decent as per as Muslim is concerned.

— RAYYANU USMAN (@RAYYANUUSMAN9) October 3, 2020
Ezit not an emotional exercise as a father to keep his daughter from appearing nacked?? Allah kiyaye, Anci amanar Fulani pic.twitter.com/hlJ0M2TINx

— Ado Turaki Askira (@adoturakiaskira) October 3, 2020
Immorality and Unilsamic is what you thought your daughter. Prepare for your share and what you wll tell you creator. @Binuthmanm ya kamata ku tsawatar. pic.twitter.com/oPZGyVXX2f

— Prime Minister (@IsmaeelAlee) October 3, 2020
Why is it that is only the Christians from the south are the only ones supporting the bride indecent dress,does this means that Christianity preach/ teaches immortality??

— African child (@Abdulha72971720) October 3, 2020
Gaskiya, with due respect sir to allow your daughter to snapped pictures with such dress is unlike you. This is a serious corruption to the minds. She's almost naked. pic.twitter.com/BuODoTmiuc

— Ɗan Najeriya (@Its_Auta) October 4, 2020
The cloths she wore at the wedding pictures with some politician is a sigh you have failed her Sir. It's not our tradition, not our religion and an immortality at it's pick, what's the point of dropping her yourself? Your children have taken another way of life contrary to norms

— Abkr (@ArchitectAMusa) October 3, 2020
congratulations for marrying your daughter off, but I don't think you paid much attention in training her to be morally decent as her outing depicts.

— Mustapha G Lawan (@mgajibe) October 3, 2020
But you should know that it's Haram for her to expose her hair and post on social media for public ( non muharams) to see. It's your responsibility as a father to educate her on this because Allah will ask u about her tarbiyya. Happy married life and congrats.

— Magajibnw (@Magajibnw1) October 3, 2020
I hope ka mata wa'azi sir. Her wedding dress was highly unislamic and unbecoming of a Muslim woman with a Good and God fearing father which you are. We your supporters are all worried wallahi.

— Muhammad Lawal (@muhdlawi) October 3, 2020
But you really surprised me for allowing your daughter to dress immorally considering your personality which change completely from the of the public

— Saleh hassan (@Salehhassan19) October 3, 2020
Your daughter is a disgrace with her dress code. Does that really mean you guys have gone gaga because of the cheap money u are getting from Nigeria? Remember you will be accountable for your deeds.

— Ayinde Adepegba(Oba Okin) (@AyindeAdepegba) October 3, 2020
But sir the way ur daughter dressed she is not like a Muslim bride, she should be in hijab cover all her body, but she dressed naked like not a muslim. May allah s w a guide bride and ango reward them with blesed child ameen

— Pharmacist Gantsa (@PharmacistGant2) October 3, 2020