Naija@60: Restructure or Disintegrate – Ezeife Concludes
Select Language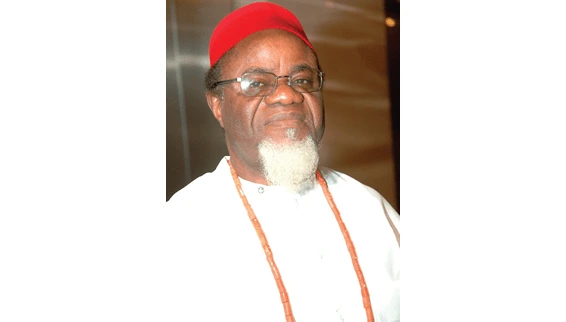 Dr. Chukwuemeka Ezeife, a former governor of Anambara State, also served as Political Adviser to former President Olusegun Obasanjo. An advocate of restructuring and good governance, Ezeife speaks to ONYEKACHI EZE on Nigeria's journey to nationhood since independence in 1960
On October 1, Nigeria marked her 60th independence anniversary, what is your assessment of Nigeria as an independent nation?
You know the answer to that question; every Nigerian knows, even non-Nigerian knows, if we are talking about independence, it is not worth celebrating. Peoples should go to their house and rest, they should not lose hope on Nigeria. They should pray that we should not get into complete breakdown and disintegration of Nigeria.
We pray that Oduduwa Republic will not come on. We pray God to revive Nigeria, for a new Nigeria because we have been crying year by year. It is clear to me that man cannot repair the damage inflicted on Nigeria.
God created Nigeria through the instrumentality of British. Look at our climate, we don't have earthquake or any natural disaster except those we bequeathed to ourselves like erosion, that is our own making. So God give us good climate and environment. Talking of minerals, we don't even know the quantity we have.
For a long time, people are exporting gold and we don't even know. What about human resources? Nigerians are gifted and talented. Today our children are making waves all over the world, but why are they not coming back?
I studied in Harvard and I am supposed to go to Uganda but I was stuck in Lagos where I was offered a job without application. Today, my children are abroad and I don't have the persuasive power to convince them to come back to Nigeria: to be faced with insecurity and poverty?
Today Nigeria is ranked the poverty capital of the world. Before 1966 the Nigerian economy was growing well more than other countries, the World Bank said so. I don't know what to say. Yet, I am encouraging Nigerians, let's have hope, God does not make mistake. God who gave Nigeria abundant mineral resources knows, so Nigeria can grow to super power. I think that what we are passing through, although it is too bad but God can reverse it.
From what you have told us now, we were growing until there was a disruption. Where did we get it wrong?
I think we got it wrong right from the military coup because those military who took over and Nigeria and ruined Nigeria. When the World Bank said we were growing fast, what kind of structure did we have? We have federal system and it was federal.
The Federal Government was doing those things states and regions could do, like currency, defence, diplomacy etc. But most of development action was done by the region. In those days, when you were spending the tax money you know how you do it, you don't stash it in foreign banks abroad.
First, there was a civil war and the Federal Government wanted to win that war, what it did was to isolate Ojukwu. To achieve that, it crested 12 states and now 36 states plus the Federal Capital Territory ( FCT). So what we have today is not a federal system, not based on regions but states. Before the war, they came up with something rational called Aburi Accord, which restored the regionalism.
When we talk about restructuring, how do you want it to be done? Before, we have three regions, now we have 36 states and Abuja. How do we restructure without losing the essence of nationhood?
When people talk about restructuring, the word restructuring confuses people. They think it begins and ends with resource control. The North resist it by thinking that once it is called restructuring it is all about oil money stop flowing to Kano or the North. The Federal Government must actually help the state and local government in internally generated revenue. We need to restructure and by restructuring, we mean simply going back to the structure that worked and that is regionalism.
Today, we have zones. We have six zones, we can make it 12 zones, that we solve the problem of the Middle Belt that is the way forward. Why I believe that a new Nigeria can be unveiled fast, it doesn't take much.
But there are fears that restructuring will lead to a break. How would you allay such fears?
Restructuring is for survival while continuity is for break up. Look at what is happening in the South West. People are saying no going back on Oduduwa Republic. Look at what is happening in the South East. We in the South East are the most marginalised and excluded in the project Nigeria and we have voted with our feet for one Nigeria. We believe that where you live is where you develop; therefore this restructuring we are talking about is useful to every Nigerian.
You blamed the military for Nigeria's woes but in the last 21 years, we have civilian governments. Was it not long period enough to remedy whatever is the problem created by the military?
Today, we have civilian government led by General Muhammadu Buhari. Before then, we had General (Olusegun Obasanjo). When they are not there, they will be pushing for what they want. The military has not left Nigeria. The constitution they imposed was one sided.
The military dominated Nigeria for the North; they created states and local government to favour the North. Lagos has 20 while Kano has 44 local government areas. How we are represented in the National Assembly is dependent on that. That is why anybody looking at the National Assembly to do anything for us is wasting time because it is not balanced. It is one sided from the constitution the military imposed.