US Commission For International Religious Freedom Publishes Reports On Fulani/Christian Clashes
Select Language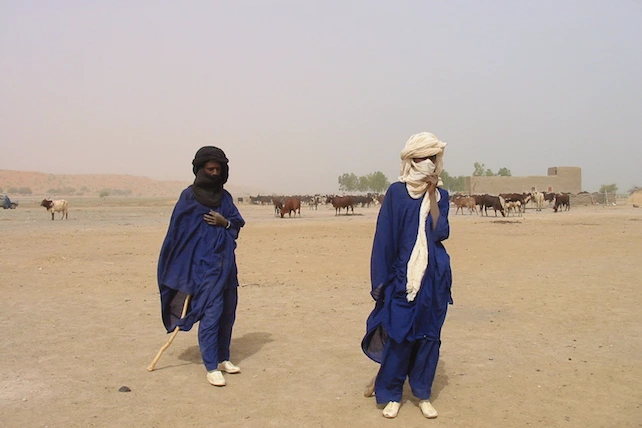 In a new report about "Religious Tensions and Fulani Communities in West and Central Africa," the U.S. Commission on International Religious Freedom (USCIRF) describes increasing violence in Africa's Sahel region. The independent, bipartisan commission—which makes policy recommendations to the President, State Department, and Congress—emphasizes that several complicated issues are overlapping in the large swath of land stretching from Senegal to Sudan.
Violence has been escalating in the region, with frequent news reports about Christians being attacked by Fulani people and churches being burned down. The watchdog group International Christian Concern estimates that between 50,000 and 70,000 Christians have been killed in Nigeria during the past decade. On the latest World Watch List from Open Doors, Nigeria ranks 12th for persecution of Christians.
But the latest USCIRF report emphasizes that the Fulani also are victims of attacks, and religion isn't always the direct cause of the violence. All the unrest, however, has increased religious friction in the Sahel. "Although the extent to which religious ideology contributes to driving this violence remains a subject of debate," the report states, "the trend of increasing violence by and against Fulani groups is clearly aggravating religious tensions in countries such as Nigeria and the Central African Republic."
Report: 'Generalizations regarding Fulani are difficult'
The Fulani, a predominantly Muslim people who raise livestock, are one of the world's largest ethnic groups. Several million live and travel nomadically across more than a dozen countries in the African Sahel, making any generalizations about them difficult. "Fulani are an ethnic minority in every country in which they reside," the USCIRF report notes.
In some areas, the report states, Fulani are victims of violence—sometimes being "targeted because they are perceived to be affiliated with Islamic extremism." Boko Haram terrorists also have killed Fulani herdsmen to seize their cattle, a valuable commodity in the region.
Elsewhere, Fulani are known as peacemakers and have long lived in harmony with other groups. For example, in northern Ghana, Fulani and non-Fulani exist as "'cultural neighbors' and cooperate more frequently than they conflict with one another," the report says.
When Fulani do instigate violence, the report states, the "drivers" of that violence tend to be "multidimensional" rather than strictly motivated by religious ideology.
Multiple Issues Form a 'complex confluence'
Extreme drought, resource scarcity, and land conflicts factor into the region's increasing violence. Instability, notes the report, is "driven by a complex confluence of climate variability, population growth, arms proliferation, poor governance, intercommunal tensions, illicit economic activity, and inequitable distribution of services and resources."
Climate change plays a key role, according to groups such as the World Economic Forum and the United Nations. Temperatures in the Sahel are increasing one-and-a-half times faster than the global average, leading to extensive desertification. Droughts and floods hamper food production and limit the amount of available farmland. Meanwhile, the population has surged, forcing some Fulani to head north. Retaliatory violence, sometimes conducted by youth, also occurs.
Amid these "complex and multifaceted" factors, notes the USCIRF report, "violence involving Fulani communities is aggravating religious tensions in a region where religious freedom violations are common."
Violence Amounts to Genocide, Some Say
The report mentions a concern voiced by many human-rights watchdogs: that the situation in the Sahel amounts to genocide. "In Nigeria's Middle Belt, incidents of suspected Fulani militants burning churches and attacking predominantly Christian villages and Christian religious ceremonies have led to allegations that suspected Fulani fighters are committing genocide against Christians," it states.
Earlier this year, Christian Solidarity International issued a genocide warning for Nigeria, calling on the permanent members of the United Nations Security Council to take action. Other experts and organizations also have been sounding alarms about genocide. A community leader in central Nigeria recently described "the incessant killing" as "more dangerous than coronavirus."
Yet the escalating violence has received less international attention than did the Boko Haram terror campaign against thousands of children, including Nigerian schoolgirls. Genocide Watch calls Nigeria "a killing field of defenseless Christians," adding that "Fulani Jihadists have replaced Boko Haram as the deadliest terrorists in the world."
In its 2020 Annual Report, the USCIRF recommended that the U.S. State Department label Nigeria as a Country of Particular Concern due to "ongoing, systemic, and egregious religious-freedom violations." It also suggested that the Central African Republic, another country in the Sahel, be placed on its Special Watch List, pointing to minorities being denied the right to vote because of their faith.
Recommendations in the New USCIRF Report
The USCIRF recommends that the U.S. government "invest in analysis that identifies the perpetrators of violence by and against Fulani groups and their motivations, especially in regions where these dynamics overlap with interreligious tensions."
It also proposes "targeted sanctions against individuals and identifiable armed groups that are found to be systematically targeting civilians based on their religion or belief." Focusing on those individuals and groups, it adds, will "delink violence from perceived religious or ethnic identity, thereby deescalating interreligious tensions and sectarian violence."
A final recommendation is for America's federal leadership to "support regional governments to build their capacity to identify specific violators of religious freedom, distinguish them from broader religious and ethnic groups, and hold them to account."
Christians Pray for Action & Intervention
Pastor K.B. Yunana of Christ Apostolic Church in Bokkos, Nigeria, recently told a World Magazine reporter that inaction by local officials is adding to people's frustration: "When [terrorists] come to kill people and no tangible arrest is made and the culprits are not dealt with, it's disheartening. [People] become very angry and upset."
After a Christian pastor was among those killed by Fulani herdsmen in north-central Nigeria in July, the president of a local Baptist Conference expressed alarm and emphasized the need for prayer. "We are dismayed that the government is not doing anything to condemn these attacks on Christians, nor give Christians hope that they are working to end these incessant attacks," said the Rev. Donald Arak. "On our part, we will continue to pray for God's intervention to bring to an end these attacks on Christians."