School Reopening: No Covid-19 Prevention Protocols in Public Varsities – ASUU
Select Language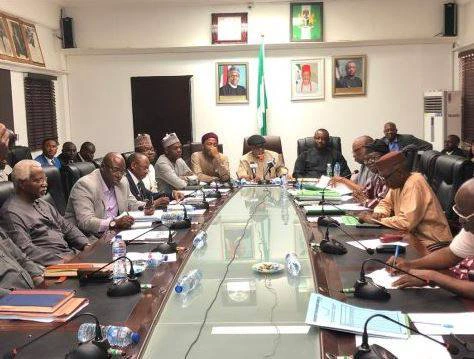 The Academic Staff Union of Universities (ASUU), has doubted capacities of public universities to adhere to basic coronavirus protocols if they should reopen for normal academic activities.
ASUU Chairperson, Nnamdi Azikiwe University, Awka chapter, Comrade Stephen Ufoaroh, who disclosed this in interview with Blueprint, observed that the country may be pronged into spike in cases of coronavirus pandemic given the decay in infrastructure in universities and  federal government inability to provide them with facilities to maintain basic COVID-19 protocols.
According to Ufoaroh, most public higher institutions in the country including Nnamdi Azikiwe universities lack expense lecture halls, desks, washhand materials, bed space and other basic infrastructure to protect students against COVID-19.
"The fundamental problem with schools resumptions is that most public universities have no facilities to help students and staff maintain basic COVID-19 protocols. There are no water and washing equipment in front of lecture halls. There is no university in Nigeria that can boast of a one thousand capacity lecture hall to contain numbers of students we have in social distancing.
"Go to our school hostels, you will see there are no enough bed space to also allow students keep to social distancing. The infrastructural decay in public universities is alarming. This is what we have been fighting for since 2009 which federal government was yet to honour," he added.
On lingering industrial action, the ASUU chairperson urged the federal government to create room for dialogue, explaining that the university education would be uplifted higher if their demands were met which according to him, include implementation of University Transparency and Accountability Solution (UTAS) as against the Integrated Payroll and Personnel Information System (IPPIS), addressing infrastructural challenges bedevilling universities, amongt others.
"Also one wonders what the IPPIS agents will achieve by wasting tax payers money by visiting Universities to capture data of workers they can not properly manage, largely due to the inefficiency in the IPPIS platform, which lacks the robustness needed to handle the peculiarities with University workers honourarium payments. As  well as the attendant third party deductions," he maintained.
He said they would never back out of the struggle to reposition the universities and urged supports from students, parents and guardians, as according to him, going contrary could balkanise public universities like public primary and secondary schools, thereby discomforting the poor masses whose children may not afford to enroll into private universities or abroad.