Post Covid-19: UNIOSUN Launches New Radio Station Ahead of Resumption
Select Language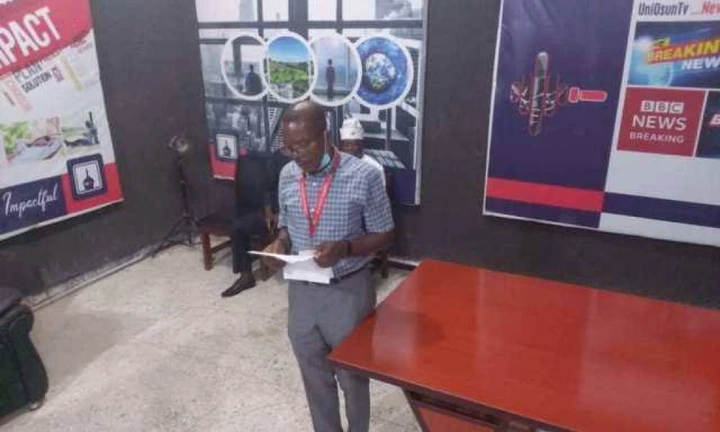 The management of Osun State University under the leadership of the Vice-Chancellor, Prof. Labode Popoola on Wednesday commissioned the University Radio station tagged UNIOSUN 106.9 FM at the department of Linguistics and Communication Studies in the College of Humanities and Culture, Ikire Campus of the University for commencement of full transmission.
Popoola was accompanied by the rest of the Principal Officers to launch the commencement of the full transmission of the station in commemoration of the 13th founder's day of UNIOSUN.
The test transmission of the UNIOSUN 106.9FM had commenced during the week of the 9th convocation ceremony of the University and the Convocation ceremony was broadcasted live on the station to mark its 13th anniversary.
Popoola declared that he truly understands that there is a critical strategy between communication and development and it is as a result of this, that the media through which communication is done cannot but be important in areas of teaching, confidence building, knowledge advancement, and social services.
"To the glory of God, in commemoration of our 13th Founders' Day Anniversary, UNIOSUN radio was completely overhauled, equipped to meet global standard and is today inaugurated to enhance the knowledge base of our students and to strengthen the prized relationship between the university and our host communities."
"With gratitude to God; the Visitor to the Osun State University, Mr. Adegboyega Oyetola; our Chancellor, Apostle (Dr) Folorunso Alakija; our Council led by Mallam Yusuf Alli, SAN; and a host of our stakeholders, UNIOSUN 106.9 FM joins the league of the 13 radio stations in Osun State."
"Despite dwindling resources and the challenges of COVID-19, we believe that life must move on Perhaps, with renewed hope and greater valor. Therefore, in line with the social responsibility of the media, once we procure our full operation license, the catchment of our University can rely on UNIOSUN FM as a tool to access vital information about the activities of the University and well-thought-out opinions about practices and actions that are capable of engendering sustainable development in Osun State and our neighbouring towns and cities."
"It is necessary to note that the radio station is conceived to be student-friendly, volunteer-driven, inclusive, and interactive by providing opportunities for members of the university community to share ideas, innovations, and expertise relating to the University and the greater good of humanity."
"Finally, we congratulate the founding fathers of the University, all stakeholders, our promising students, and the host community."
"As a vision-driven University, we shall remain committed to best practices, never rest on our past successes and continue to impact the society positively," Professor Popoola added.