HORROR: Many Feared Killed in Deadly Tanker Explosion in Akwa Ibom
Select Language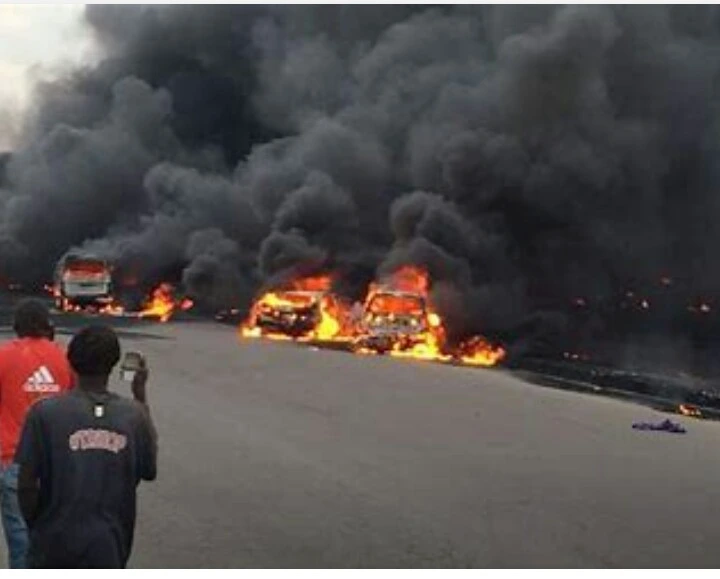 In the early hours of today Friday , at ikot ekpene road akwa ibom state Nigeria .
A tanker transporting petrol from port Harcourt to akwa ibom is said to encounter leakage at a fuel dispenser station In ikot ekpene road akwa Ibom state, caught fire and exploded causing damages to life and prosperities at ikot ekpene road akwa ibom state Nigeria.
,An eye witness (who asked that is name should be withheld) made it known to vanguard news reporters , that the tanker was said to undergo leakage causing panic in the fuel dispenser station, popularly called basumoh filling station uyo
The driver who shouted for help , asked the worker in the fuel dispenser station to shot down all source of electricity in the vicinity that can lead to a spark. Before he could do anything the tanker exploded leading to the death of people around,. Not less than 13 people feared death and several injured in the process.
The popular market in the area known as itam market uyo akwa ibom state also was affected by the fire outbreak , especially the part of the market that houses the northern traders in the state, people where seen in distress and many complained that the market was their source of livelihood .
The fire service of Nigeria was called for rescue , although according to eye witness who informed our source, made mention that the fire service aid came late and couldn't reach before the fire had spread to many part of the resident. Serious traffic jam has been experienced at the popular plaza due to the fire outbreak .
Moving vehicles where diverted to different locations by the Nigerian police force , part of the fire has been subdued by the Nigerian fire service unit in the state. Bodies that has earlier been discovered was carried to the mortuary.
The people in the resident acknowledged that indeed today was a black Friday for the people of akwa ibom